Comedian and Reds supporter John Oliver said of Jurgen Klopp in the summer of 2016: "Liverpool have one of the most entertaining managers in all of sport."
"Not only is he a sensational tactician, an inspirational figure, he's also a funny, angry German, and that is the best kind of German there is…He does not understand not doing things at full pace all the time."
That candid description seems absolutely perfect given what Klopp did today, in celebration of his side's 1-0 victory at Anfield over Everton today.
Watch below as Klopp excessively celebrates Divock Origi's game winner in the 96th minute:
Jurgen Klopp running onto the pitch ? pic.twitter.com/7sbSAXMwBA

— Ivory Scribbler (@delboy_23) December 2, 2018
Yes, he really did sprint out to the centre circle and hug his goalkeeper Alisson. This did not go over well with many football observers, pundits and fans to say the least. Klopp said he quickly told his counterpart on the opposite touchline that he was sorry.
Emotions run high in the Merseyside derby.
"Immediately after the game I apologized to Marco Silva when we spoke to each other," Klopp said.
"I told him how much I respect his work because it's incredible what he did with that team. They are just an outstanding side and it was a difficult game today. Derbies are always difficult but it was a completely different difficult to the last few years."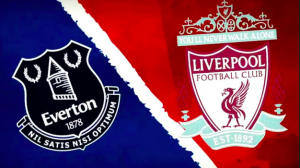 What can I say about it? I didn't want to run, it was not my plan. I didn't want to run to Ali [Alisson], I couldn't stop obviously. Not cool, but it happened."
Paul M. Banks runs The Sports Bank.net, which is partnered with News Now. Banks, a former writer for NBC Chicago.com and Chicago Tribune.com, regularly appears as a guest pundit on WGN CLTV and co-hosts the "Let's Get Weird, Sports" podcast on SB Nation. 
He also contributes sociopolitical essays to Lineups.com and Chicago Now. Follow him on Twitter and Instagram. The content of his cat's Instagram account is unquestionably superior to his.
Powered by

Sidelines
Follow paulmbanks