There was no mercy in the Merseyside derby today. The hosts Everton and visitors Liverpool split the spoils on Saturday afternoon, battling to a 2-2 draw that was defined by controversial officiating.
Many thought that Toffees goalkeeper Jordan Pickford should have been sent off for his aggressive challenge (pictured above) on Liverpool central defender Virgil van Dijk. The move was certainly a bit Cobra Kai "sweep the leg" to say the least. Now VVD is injured and the initial prognosis is very bad for Liverpool fans.
Calls don't get any more "blown" than that. Can't call them #liVARpool today
#Liverpool #EVELIV #MerseysideDerby pic.twitter.com/6830gAmyGo

— Socially Distant Paul M Banks (@PaulMBanks) October 17, 2020
The Dutchman was actually ruled offsides on that play. You can see the video at this link.
The other big blown call by VAR, at least in the hearts and minds of Liverpool supporters, is pictured above. Reds skipper Jordan Henderson thought he had a game winning goal in stoppage time, but VAR ruled offsides. Not sure what they saw that we don't.
Liverpool manager Jurgen Klopp was understandably and justifiably upset and frustrated after the game, but he did a great job of restraining himself in his postmatch interview.
"Tight offside, I didn't see the first one with Virgil," Klopp said.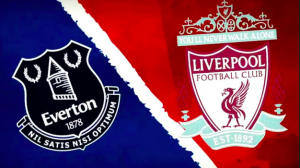 "If it's not offside it's a clear penalty. I saw only briefly the situation with the Henderson goal. I don't know where the line is and where you could do offside. We should have won this game and we didn't."
He also added his belief that this was the best one of his Liverpool teams have played in a road game.
"Performance-wise I'm very happy, probably the best away game I've managed here," the German continued.
"Conceded two goals after we were forced to change formation. We were dominant against a formerly flying side."
Henderson's disallowed goal came against a Toffees side that was down to 10 men, due to Richarlison getting sent off over his very strong tackle on Thiago Alcantara.
As for Van Dijk, it looks like the Dutchman could be on the shelf for awhile, and if that is the case, then Liverpool's trophy hopes this season have just taken a big hit.
"I don't know [how serious it is], I don't know, but it is not good," Klopp said about the 5′ incident and VVD's hobbling out of the game. "Virgil played for us I don't know how many games in a row. He plays with pain, he plays with pretty much everything, but he couldn't play on. That's not good."
Everton, who dropped points for the first time this season, got their two goals from Michael Keane (19′) and Dominic Calvert-Lewin (81′). The defending league champions saw their scoring coming via the COVID-19 recovered Sadio Mane (3′) and Egyptian magician Mo Salah (72′).
For the latter, it was his 100th goal in a Reds shirt.
Paul M. Banks runs The Sports Bank, partnered with News Now. Banks, the author of "No, I Can't Get You Free Tickets: Lessons Learned From a Life in the Sports Media Industry," has regularly appeared in WGN, Sports Illustrated, Chicago Tribune and SB Nation. Follow him on Twitter and Instagram.
Powered by

Sidelines
Follow paulmbanks