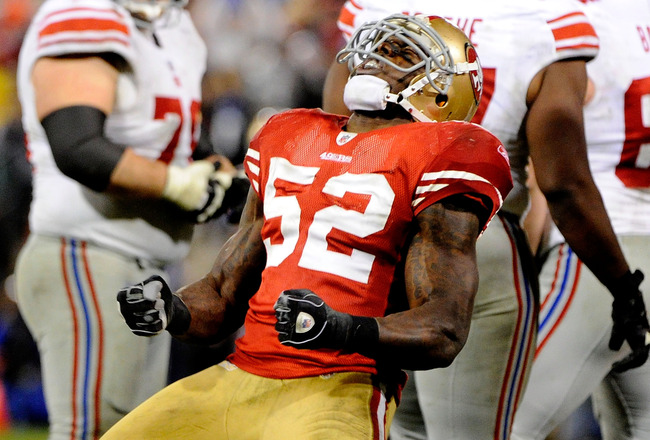 Football fans, you're Christmas is right around the corner. Preseason games have already started and the regular season is right around the corner. Nearly as important, the fantasy football season is finally here! In the coming weeks, we will prepare you ready for the upcoming fantasy season by breaking every position. First up, we'll rank the top the top defense & special team units.
Full Rankings
1. 49ers: Last year San Francisco finished with the most fantasy points despite picking up just one defensive touchdown. Given the playmakers on John Harbaugh's team, you have to expect that number to go up.
2. Texans: DC Wade Phillips turned Houston's weakness into strength last season, completely transforming the defense. With a full training camp, expect this defense to only get better.
3. Bears: Call this ranking a hunch, but Chicago's defense has always been able to turn the ball over. Last season they scored six defensive touchdowns and Devin Hester is always a threat to return a kick for a score. An improved offense will only help Chicago's D.
4. Ravens: Age and injuries are beginning to catch up with this former defensive powerhouse. Even with the loss of 2011 Defensive Player of the Year Terrell Suggs, the defense should once again be among the league's best. After all, you can't count out a unit featuring Ed Reed and Ray Lewis.
5. Steelers: Like the Ravens, Pittsburgh's defense isn't getting any younger. Still, this is a defense that allowed an NFL-low 271 yards per game last season. With a good return game and ball-hawking secondary, expect at least one more good fantasy season for this unit.
6. Eagles: No longer dubbed the Dream Teams, Philadelphia has quietly added a couple of nice pieces and turned weakness into strengths. The addition of DeMeco Ryans solves the middle linebacker spot. Add in guys like Jason Babin, Nnamdi Asomugha and Trent Cole, and this unit has a chance at the top-overall spot.
7. Jets: For all of his faults, Rex Ryan does a great job of getting the most out of his defenses. Safety was a weakness last year, but the addition of a healthy LaRon Landry should help. Expect more of the same from this unit.
8. Packers: Green Bay had an OK fantasy season last year, but OK was not good enough. After allowing an NFL-worst 412 yards a game, the unit has beefed up its front seven, adding in rookie pass rusher Nick Perry as well as a plethora of defensive lineman. Don't forget, this unit had 31 picks last season. With more pressure on the quarterback, the hope is that number will go up even more.
9. Lions: Detroit's defense is making most of its news in the police blotter, but this is a unit with some real star power. The key for the Lions D is getting to the quarterback, which they did 41 times last season.
Seahawks flying under the radar
10. Seahawks: Quick, name the fifth-best fantasy defense last year. My guess is Seattle was not even in your top ten guesses. With only one major loss from last year's unit (LB David Hawthorne), the Seahawks might be your best bang for the buck.
11. Falcons: Atlanta has one of the best sets of corners, with Asante Samuel joining Brent Grimes and Dunta Robinson via an offseason trade. If Ray Edwards can prove he is worth his big contract (just 3.5 sacks last season), the Falcons defense should be solid.
12. Bills: All it took was one offseason for Buffalo to revamp its defensive line into one of the league's best. Free agent defensive ends Mario Williams and Mark Anderson join defensive tackles Marcell Dareus and Kyle Williams to form one of the most imposing D-lines in the league. This is certainly a unit on the rise.
13. Cowboys: This is a conservative estimate for Dallas' D, who can get to the quarterback with the best of them. The question is if the additions of Brandon Carr and Morris Claiborne are enough to fix the Cowboys' secondary. If the back half of the defense can stay healthy, the team had top-5 potential.
14. Giants: Despite its phenomenal postseason run, the Giants actually struggled most of the year on defense. But health and inexperience played big parts in New York falling to the 22nd best fantasy defense last season. There are just too many good players to think that will happen again.
15. Chiefs: Even though the injury bug bit KC early and often last season, the defense played pretty well. They have a good pass rush, nice linebacker play, and an above-average secondary. If healthy, this is a defense worth owning.
16. Cardinals: We've spent a lot of time discussing the defenses, but the return game is a big piece of how the scores pan out. With Patrick Peterson returning kicks in Arizona, this unit gets a big boost. Still, they have to force more turnovers before they should be on a fantasy roster.
17. Dolphins: This unit got better as last season went on and a change at coach should give new life to Miami's D. From week 8 on, the team averaged a consistent 8.1 fantasy points a game. Depending on the matchup, the Dolphins could be a good bye week pickup.
18. Bengals: Have you looked at Cincinnati's defensive roster for this upcoming season? It's like the team of misfit draft busts. Seriously, give it a look. Still, if they can somehow turn some of this potential into production, look out for Cincy.
19. Rams: St. Louis' defense is not bad, just not all that good. They are young at a number of positions, and might be a year or two away from being a dependable fantasy defense.
20. Patriots: The secondary was so bad last season that a wide receiver saw a ton of playing time at corner last year. They made some interesting moves in the offseason, but I'd watch and wait before adding New England to your roster.
21. Raiders: Oakland's defensive front is actually pretty good, but the team had to remake its secondary again this offseason. There's potential but better options out there.
22. Broncos: They can get to the quarterback with Elvis Dumervil and Von Miller, but there are a lot of question marks on the roster. Pass on Denver.
23. Titans: Lost a lot of key pieces in the offseason and did not really replace them.
24. Browns: Cleveland is good against the run but the secondary is pretty porous. Not a great fantasy option.
25. Redskins: There is young talent on the roster, but too many holes remain unfilled. Pass.
26. Chargers: If the pass rush can come into form this unit will be better than this ranking. But that's a big if…
27. Buccaneers: They have talent, but like the Rams, they are likely a year or two away from realizing their potential.
28. Jaguars: Good news: Jacksonville finished 11th in fantasy points last season. Bad news: take away the week 14 performance and they are right back near the bottom.
29. Saints: Bountygate gutted the roster but age and ineffectiveness are what makes this unit undraftable.
30. Vikings: They have Jared Allen, so that's nice. They also have the league's worst secondary, so that's not.
31. Panthers: The team's defensive hopes might rest on the reconstructed ACLs of linebackers Jon Beason and Thomas Davis.
32. Colts: Switching to a 3-4 without the personnel to make the defense succeed. Check back in two years.
Stephen Kelley is a contributor at The Sports Bank where he covers Fantasy Sports and Pro Drafts. You can follow him on Twitter @stephen_tsb.
Follow paulmbanks