Whether or not a deal will be worked out this summer remains to be seen, but Paul Pogba has now made it very clear- he wants out of Manchester United.
"I am thinking of this: To have a new challenge somewhere else," Pogba told a group of reporters in Tokyo during a stop on a promotional tour. "For me, I have been for three years in Manchester and have been doing great; some good moments and some bad moments, like everybody."
"Like everywhere else."
"After this season and everything that happened this season, with my season being my best season as well… I think for me it could be a good time to have a new challenge."
While he's been widely linked with both a return to Juventus and a move to Real Madrid this summer, widespread reports continue to claim that United just have no interest in selling him.
It's easy to understand why, as the Frenchman is not just their best player by a country mile, but he's also the most expensive player in both United and England club history.
Pogba confirms he's leaving. We were in trouble with him staying, my word are we in serious trouble with him going. Don't trust the board in the slightest to replace him well. Bottom half table finish isn't out of the question at present. #mufc

— Hesham Bilal-Hafiz (@hesham786) June 16, 2019
The list of potential destinations is limited, given his astronomical price tag, but Paris Saint-Germain, a club in his native country that seems to have bottomless barrels of money to spend on players, could also be a fit.
While he is in fact United's best player (and the only one named to the PFA Team of the Year last season), by a long shot statistically, he's still been a major disappointment at Old Trafford and he hasn't come close to living up to the expectations that naturally accompany a £89.3 million price tag/breaking the world transfer fee record at the time in 2016.
"Manchester United won't miss Paul Pogba. He just runs around like a headless chicken." pic.twitter.com/MA7ThmRYBu

— Devils of United (@DevilsOfUnited) June 16, 2019
While he is the side's most productive player, this fact is probably more indicative of just how many severe issues the club has right now, not how stellar the midfielder is.
United might just be forced to sell him, despite their lack of interest in doing so.
Pogba is awful in the dressing room, is severely lacking in work ethic, and he's simply not cut out to be the leader that the club needs right now.
Would United be worse off without him? In the short term, absolutely. But in the long term, the cash influx his transfer would yield could be used to rebuild the club the right way.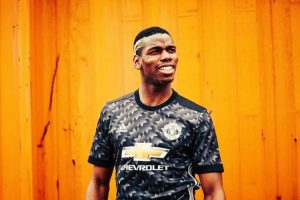 And you have to be honest, this team is definitely going nowhere with his being the alpha right now.
All in all, the Paul Pogba era could end in a manner that would yield plenty of Angel Di Maria comparisons.
United bought a talented and expensive midfielder from a giant club, who didn't get along at all with the manager, produced, but not nearly enough, and was then sold off to a different giant club.
"Paul PogbAngel Di Maria?" History, of an unwanted kind, is repeating at Old Trafford during the Ed Woodward era.
Paul M. Banks runs The Sports Bank.net, which is partnered with News Now. Banks, the author of "No,  I Can't Get You Free Tickets: Lessons Learned From a Life in the Sports Media Industry," regularly appears on WGN CLTV and co-hosts the "Let's Get Weird, Sports" podcast on SB Nation. 
Banks, a former writer for NBC Chicago.com and Chicago Tribune.com, also contributes to Chicago Now. Follow him on Twitter and Instagram. The content of his cat's Instagram account is unquestionably superior to his.
Powered by

Sidelines
Follow paulmbanks