Bastian Schweinsteiger has a reward awaiting him now that Manchester United has won the Europa League tournament this season.
After the Chicago Fire resoundingly defeated the current Major League Soccer defending champion Seattle Sounders, the German icon was asked if he's been following United's progression through to the Europa League final in Stockholm. The midfielder who moved from Manchester United to Chicago Fire this past March was also quizzed on the medal that he'll receive now that United has defeated Ajax 2-0 and claimed the Europa tournament title.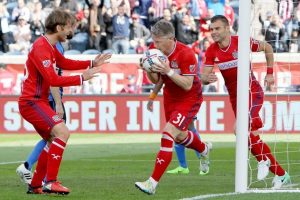 Because Schweinsteiger saw 28 minutes of playing time in the Europa tournament, thus he will be awarded a medal now that the Red Devils have won the tournament. This according to a reporter present in the media swarm around the German last night.
United have now won two trophies this season (this their first Europa League title in club history) and a berth in next year's UEFA Champions League. United has also won the EFL Cup this season.
Schweinsteiger Tweeted his excitement tonight for his former club's triumph:
Europa League winners! Congrats to @ManUtd and my former mates ?? #mufc

— Basti Schweinsteiger (@BSchweinsteiger) May 24, 2017
Paul M. Banks runs The Sports Bank.net and TheBank.News, partnered with FOX Sports Engage Network. Banks, a former writer for the Washington Times, NBC Chicago.com and Chicago Tribune.com, currently contributes to WGN CLTV and KOZN. 
Follow him on Twitter, Instagram, Sound Cloud, LinkedIn and YouTube.
Related Posts via Categories