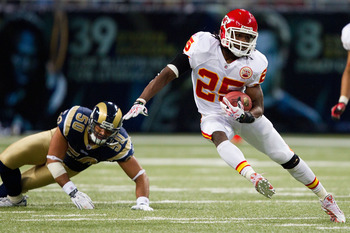 With the NFL lockout finally behind us, football fans can finally turn our attention from the courtrooms and onto the field, where it belongs. In the coming weeks, I will rank the fantasy studs, duds and sleepers for each division. Today, the AFC West goes under the microscope.
Fantasy Studs
Quarterback: Philip Rivers, SD (2010: 4710 yards, 30 TD, 13 INT)
No one in the league threw for more yards than Rivers last year, which is even more impressive when you consider he was getting it done with his top five receiving options all missing at least four games apiece. No Vincent Jackson or Malcom Floyd? The Chargers offense kept on going with Seyi Ajirotutu lined up outside and all the credit goes to Rivers. With his bevy of receivers (and of course, Antonio Gates), expect more big things from Rivers this year. Aaron Rodgers, Michael Vick, Tom Brady and Peyton Manning will get more attention on draft day, but Rivers should be in the discussion.
Running Back: Jamaal Charles, KC (2010: 1467 yards, 5 TD, 45 catches, 468 yards, 3 TD)
The "Free Jamaal Charles" campaign finally saw results late in the 2010 season. Despite sharing carries with Thomas Jones throughout the season, Charles found a way to become the third-best fantasy back. He averaged 6.4 yards per carry, a number only bested by the great Jim Brown. With Thomas Jones starting to look his age, could this be the year Charles finally gets a chance to carry the full load? Given what he did with limited carries last year (only three games with more than 20 carries, five with more than 15), defenses better be scared, and fantasy owners better smiling.
Wide Receiver: Vincent Jackson, SD (2010: 14 receptions, 248 yards, 3 TD)
A league suspension and a staring match with the Chargers' front office cost V-Jax the first ten games of the season. In his first game back, he pulled a calf muscle and missed two more. But when he was right, he was very, very good. In week 15, Jackson's stat line reads: 5 catches, 112 yards, 3 TD. The contract situation is done. He's the most talented receiver on a team that has an elite quarterback. Draft away and be happy.
Wide Receiver: Dwayne Bowe, KC (2010: 72 receptions, 1162 yards, 15 TD)
Bowe lead the league in touchdowns last year, so that should be enough to make him a top fantasy wideout option. But what has to be more impressive is the overhaul he made from the 2009 to 2010. He went from leading the league in drops and showing up to camp overweight, to becoming one of the best fantasy options. On any other team, he'd be the first wide receiver taken in fantasy drafts. But Bowe will go as far as Matt Cassel allows him to. Let's just say, that's not a proposition that makes fantasy owners feel warm and fuzzy.
Tight End: Antonio Gates, SD (2010: 50 receptions, 782 yards, 10 TD)
Want to know how good Gates is? Despite missing six games due to a foot injury, Gates finished second in fantasy points, and first in touchdowns. As if that's not good enough, Gates was still second on the team in targets last year. More important for this year, he is healthy. Rivers loves to get his tight end involved, and Gates is the best there is.
Defense/ST: Chargers (2010: 139 points)
The Chargers defense was good last year, allowing the fewest yards in the NFL, but it was not elite. San Diego gave up 20 points a game, and the special teams was a black hole of despair (gave up four TDs). In comes new special teams coordinator Steve Crosby, who is among the league's best. The Chargers also add a couple nice pieces in safety Bob Sanders and rookie defensive lineman Corey Luieget. Expect good things from this defense.
Fantasy Duds
Quarterback: Tim Tebow, DEN / Terrelle Pryor, OAK  
Seeing where these guys are getting drafted (or the fact that they're even getting drafted) is either a comment on the intelligence of America or just the American-way. On one hand: Tebow has been the third-best quarterback on his team in the preseason and lost his biggest supporter on the team (former head coach Josh McDaniels). There is legitimate concern that Pryor does not have the physical tools to be a quarterback in the NFL and he'll start the season serving a five game suspension. On the other hand: Tebow is a cult icon and people want to see him succeed. As for Pryor, after the Michael Vick success story, people are reaching to find a newer, fresher story to get excited about. Pryor was dismissed from Ohio State, and there's a small minority that still believe the hype he brought with him from high school. No matter what you believe, these guys should not be drafted before quarterbacks that are actually starting in week one.
Running Back: Knowshon Moreno, DEN (2010: 779 yards, 5 TD, 37 receptions, 372 yards, 3 TD)
I actually expect Moreno to have a decent season with John Fox now residing in the Rockies. But he does have a few things working against him this year. Fox loves a backfield platoon (he's single-handedly responsible for the DeAngelo Williams/Jonathan Stewart platoon, for which I will never forgive him).  Denver brought in famed fantasy vulture Willis McGahee to steal Moreno's carries and touchdowns. Finally, Knowshon simply struggles to stay healthy. Moreno is being drafted as a top-20 fantasy back, but might not finish there at the end of the year.
Wide Receiver: Brandon Lloyd, DEN (2010: 77 receptions, 1448 yards, 11 TD)
Fantasy football's best receiver last year is on the cusp of falling back to earth. Let's look at the facts: Lloyd never even sniffed the numbers above before last year, John Fox will bring in more balance to the offense, and Lloyd simply ran a lot of fly routes and got all the bounces to go his way. Like Moreno, I'm not saying he shouldn't be on your team. But also like Moreno, I don't think his production will match the top-20 draft spot he's receiving.
Wide Receiver: Malcom Floyd, SD (2010: 37 receptions, 717 yards, 6 TD)
Floyd looked to hit big in free agency, but ended up right back where he started. That's unfortunate for his fantasy value because instead of competing for a top spot on a new team, he'll be the third option for the Chargers.
Tight End: Kevin Boss, OAK (2010: 35 receptions, 531 yards, 5 TD)
Boss has never had a 100-yard receiving game, but kept relevant as a fantasy tight end because he had a nose for the end zone. There's a good chance that will change this year. Zach Miller was successful in Oakland because he could make plays up the seam, which is not Boss' strength. Around the goal line, Hue Jackson would rather give it to Darren McFadden or Michael Bush than put the ball in the air. I would not draft Boss.
Defense/ST: Broncos (2010: 24 points)
Denver, the worst fantasy defense last year, was nearly eight times worse than the Steelers' first place defense. Seriously, that's historically bad.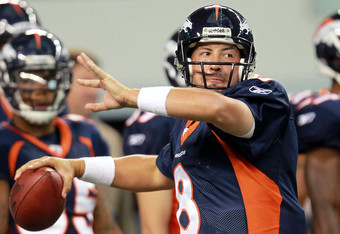 Fantasy Sleepers
Quarterback: Kyle Orton, DEN (2010: 3652 yards, 20 TD, 9 INT)
Few guys get a worst rap than Captain Neckbeard. Like a habitual philanderer, his teams are always looking to do better. Orton was an absolute beast at the beginning of last year, putting up yardage of 307, 476, 341 and 314 in a four week span. But Denver was not winning, so McDaniels started tinkering with the offense and Orton was eventually benched in favor of Tebow. Orton will continue to be successful in Fox's conservative offense, and you should feel comfortable putting Capt. Neckbeard in as a spot-starter.
Running Back: Ryan Mathews, SD (2010: 675 yards, 7 TD, 22 receptions, 145 yards)
To say Mathews struggled as a rookie might be an understatement. An injured ankle in camp prevented him from getting up to speed, and that nagging injury was a problem most of the season. But when he was finally fed the ball in week 17, he responded with 120 yards and 3 TDs. Norv Turner needs a run game to set up his play action attack, so expect the Chargers to give Mathews every chance to prove he was worth the 1st round billing.
Wide Receiver: Eric Decker, DEN (2010: 6 receptions, 106 yards, TD)
Injuries limited his playing time in 2010, but the former Gopher has been stellar in camp and the preseason. With Demaryius Thomas out for the season, and Jabar Gaffney gone, Decker will see plenty of the field. He has a perfect skill set for John Fox's new offense, and will catch everything thrown his way. He might not be worth a draft pick yet, but you should definitely keep an eye on him.
Wide Receiver: Jacoby Ford, OAK (2010: 155 rushing yards, 2 TD, 25 catches, 470 yards, 2 TD)
Ford has an extremely rare skill set, similar to the Eagles' DeSean Jackson. He's incredibly fast (4.28 40-yard dash) and can hit a home run at any time. He's already among the league's best kick returners, and scored seven total touchdowns last year. He can help your fantasy team in a number of ways, and the Raiders would be smart to try to get the ball into his hands.
Tight End: None
Tony Moeaki would have been the guy for this spot, but he suffered a season-ending injury this offseason. His potential replacements (Leonard Pope and Jake O'Connell) don't strike fear in anyone. If you're looking for a sleeper, find another division (there's a great one in the NFC West).
Defense/ST: Oakland (2010: 142 points)
Surprisingly, the Raiders had the sixth-best fantasy defense last year, thanks in large part to the special teams. Jacoby Ford is always a threat to take one to the house, and the team has a number of good young players. Losing Nnamdi Asomugha will certainly hurt the defense, but they should still put up a point total in the 125 range.
Stephen Kelley is a contributor at The Sports Bank where he covers Fantasy Sports and Pro Drafts. You can follow him on Twitter @stephen_tsb.
Follow paulmbanks
Related Posts via Categories