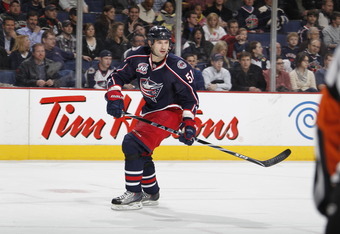 In my previous article, I expressed my skepticism over whether a much-needed overhaul of the Columbus Blue Jackets would take place:
However, if Blue Jackets On-Ice personnel–Scott Howson and his staff–were truly ardent and sincere in acknowledging this dire need to change the landscape and foundation of this organization seemingly and perennially stuck in limbo , I wouldn't have this skepticism:
They need to make sweeping changes to the organization.
As has been said, "If you want big rewards, you have to take big risks".
The current landscape of the organization still does not possess the following:
By Ed Cmar
– A top pair of defensemen
– A reliable starting goalie
– A legitimate top-line center
– A reliable top-line, opposing wing to accompany Rick Nash
Conversely, the Blue Jackets do possess the following excesses:
– A glut of wingers, particularly, 3rd and 4th line wingers
– Two former 1st round picks who have underachieved–Jakub Voracek and Nikita Filatov
– Stay-at-home defensemen, which are not designed for coach Scott Arniel's up-tempo system
– A cadre of defensive prospects with their American Hockey League (AHL) affiliate
So how should they approach this seismic change in the landscape of the organization, both in talent and in the culture of the organization?  I offer the following changes:
– Add a Senior Hockey Operations advisor to serve in both an advisory and oversight role. Blue Jackets Team President Mike Priest had admittedly stated that he is not versed in the sport of hockey so he relies on Blue Jackets General Manager Scott Howson to assume full reign of all Blue Jackets on-ice personnel decisions.
In firing former head coach Ken Hitchcock and in hiring current coach Scott Arniel, Howson, whether he chose to accept this or not, has sent a signal that this is indeed his team, both in personnel and in the team's direction.  A perceived flaw in this full reign, from Mike Priest's standpoint, is that he cannot truly assess what constitutes a measure or baseline for on-ice success.  Adding a Senior Hockey Operations Advisor would serve many purposes.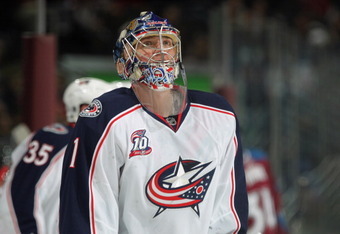 It would provide Priest with a seasoned, reasoned advisor who can provide objective, honest feedback on the on-ice product. But, most importantly, it would also send a signal to the rapidly dwindling fanbase that the current, 'status quo' state of the organization is unacceptable and that measures are in place to ensure that the organization is diligently trying to position the team for future success.
– For the top five goaltenders in the National Hockey League (NHL), both in Goals Against Average (GAA) and in Save Percentage (Save%), there is one common denominator: Each of these teams has a full-time goaltending coach.
The Blue Jackets have a part-time goaltending consultant, David Rook. However, before anyone offers up naming Rook as the full-time goaltending coach, please keep in mind that since being hired as Steve Mason's consultant–Rook was Mason's junior hockey consultant and a close friend of Mason's–Steve Mason's last two seasons rank near the bottom of the league's goaltending statics.
– So, in line with that background information, David Rook should not be rehired as either a consultant or as their full-time goaltending coach. As to who should be considered, the Blue Jackets should consider either bringing back Perry Elderbroom as their full-time goaltending coach or they should consider, within the parameters and rules of the NHL, request to interview the full-time goaltending coaches of these elite NHL goaltenders.
Elderbroom was the goaltending consultant brought in to coach Steve Mason during his Calder Trophy-winning rookie season when Clink Malarchuk, the former Blue Jackets goaltending coach, was unable to coach Mason due to a self-inflicted gun-shot wound.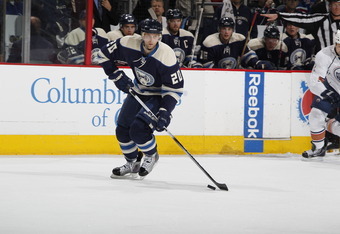 Gregory Shamus/Getty Images
– The contracts of every current Unrestricted Free Agent (UFA) but one should be allowed to expire and that UFA should be Grant Clitsome, for reasons as stated, below. Otherwise, resigning these UFAs would send the signal that the disappointments and the sub-par performances of the last two seasons are to be tolerated, both on the ice and in the locker room. To this second aspect, if the locker room culture and leadership was that solid, then why were three former NHL team captains brought in, adding little help in either on-ice performance and any demonstrated tolerance for the Blue Jackets putrid 3-12-7 finish which, incidentally, was the team's worst stretch in their history.
– Make attempts to trade every current Restricted Free Agent (RFA), for the same stated reasons, above.  They also provided little in the way of on-ice performance or in changing the current locker room culture.
– Offer buy-outs to the contracts of Kristian Huselius and Mike Commodore.  Commodore will no longer play for the Blue Jackets, the result of being relegated to coach Scott Arniel's 'doghouse'. And, as Huselius had also been relegated to the very same 'doghouse' and  doesn't provide either the style of forward play or gritty effort Scott Arniel demands, retaining him provides little towards changing the team's much needed cultural change.
Placing Huselius on waivers wouldn't work, as Huselius didn't exactly leave a lasting legacy of goodwill in his last two career stops–Florida and Calgary.  There is a possibility of re-entry waivers, but again, the effect of his prior two stops would make teams skeptical towards making the 32-year old winger a part of any team's future plans.
Gregory Shamus/Getty Images
– Retain only two of the current defensemen:  Fedor Tyutin and Grant Clitsome.
Tyutin is the Blue Jackets' most reliable and versatile defensemen and Clitsome provided the first spark of offense from any defenseman this season and particularly resuscitated one of the NHL's worst power-play units.  As for the remainder of the defensive corps, their disappointing performance during this past season warrants little reason to retain any of them.  Add to that their cadre of young defensemen who should be ready in the next few seasons–notably John Moore, Cody Goloubef, David Savard and Nick Holden–the Blue Jackets should expend all efforts towards filling their immediate blueline needs with either UFAs or in trades.  This allows both the team to address their most critical shortcoming and gives the team a safety net should these defensemen not be able to adapt to the NHL level.
– Although the Blue Jackets are approximately $23 million under the NHL's salary cap, their current financial situation will not allow for spending money on Free Agents at or near the league's salary cap. Assuming the Blue Jackets allow for a buffer of approximately $7 million–the buffer they stayed with during this past season–and allowing for salary increases to key individuals like RJ Umberger, the Blue Jackets should have approximately $10-$13 million of salary cap space in which to play with.  However, given that Columbus is not currently a "destination" for UFAs, attracting UFAs to Columbus will again require the organization to overspend for much-needed help for their defensive corps, a top-line center and a reliable starting netminder.  Therefore, the most logical method to improve the current talent level of the organization will be via trade.  But doing so will require a great deal of creativity, the kind of creativity GM Scott Howson exhibited in obtaining Fedor Tyutin and Antoine Vermette, both of which were done over two seasons ago.
Gregory Shamus/Getty Images
– To this trading method of acquiring organizational talent, Howson will have to depart from his previous method of coveting future draft picks and young yet underperforming talent, most notably former first round draft picks Nikita Filatov and Jakub Voracek.  As is often said in any trade, in order to obtain something, you have to give up something.  In the case of Filatov, Howson will have to shrewdly sell the point that Filatov, in the right system and circumstances, can and will be a productive player.  As an example of how to sell this point, think about how former firstst round draft pick (Vancouver Canucks) Michael Grabner, once considered a first round disappointment, has now flourished with the New York Islanders.  In the case of Voracek, who's about to become a UFA, utilizing his potential for the right team and system, perhaps packaged in a deal with Filatov, can and should provide generous return on any trade.
– Finally and most importantly, ask the fans what they want to see. Case in point, the Edmonton Oilers went to their season ticket holders and asked them what they wanted to see in the future direction of the organization.  The fans responded by stating that mistakes were made in the past and that, so long as the organization changed the direction of the team in the correct manner–in this case, the post-lockout model proven successful in Pittsburgh and Chicago–they would be both supportive and patient.  And for the often impatient Canadian team faithful, their show of support and patience speaks volumes.  To apply this notion to the Blue Jackets situation, it should say that no one's job is safe, that, per majority owner John P. McConnell, "all aspects of the organization will be evaluated".
If these steps are made, though it might take some time and patience, the city of Columbus has tired of the current and prior organizational models. The city deserves so much more than they've received to date. Their fans will be patient, so long as they know there's a proven, reliable system and direction, going forward, with organizational coffers capable of delivering a quality on-ice product.  But above all, they also have to believe that the organization is ardently trying to build a successful product and not insulting their intelligence and providing apathetic signals that little will change.
After 10 long suffering years, this market deserves that opportunity.
Follow paulmbanks