Given the Columbus Blue Jackets ignominious descent toward the bottom of the Western Conference rankings—the sad reality of a recent 6-14-3 free-fall, the second in as many years following a stellar start—Blue Jackets General Manager Scott Howson has been actively burning cell phones around the NHL in an attempt to salvage yet another disappointing season.
While you would struggle to determine where to start in fixing this team, its most glaring need is the lack of offensively-minded defensemen, those adept at puck movement through all of the zones, quarterbacking the team's power play and having a slap shot capable of both getting to the net and creating the opportunity for the Blue Jackets' forwards to crowd the areas around the opposing team's goal.
By Ed Cmar
There are four problems with attempting to rectify this dilemma so late into the season:
– The Blue Jackets have continued to experience mounting financial losses due to an arena lease agreement made during its inception, so salary cap flexibility is a moot point.
– Many teams are either still in a position to qualify or easily make the playoffs, or their playoff prospects are so dire that making a deal allows them nothing to lose, giving the GMs in both types of scenarios a position of strength in negotiations.
– The prospective general managers know Howson is in desperation mode—again, a position of strength for opposing GMs.
– Due to the Collective Bargaining Agreement (CBA), any opportunity to make any impact to the team came during the summer months, and Howson opted to keep last season's 27th place team—out of 30 NHL teams—generally in tact.
And it is this last issue, that lost opportunity, that will prohibit Howson from making any landmark deals with other NHL teams, and one that may place Howson on the "hot seat" should another disappointing result allow for even greater drops in Full-Season Equivalents (FSEs) and overall ticket sales.
Over the summer months, either during the NHL Entry Draft or during the unrestricted free agent (UFA) signing period, Scott Howson decided not to make any trades or UFA acquisitions.  He based that decision on the following tenants:
– Over the past two offseasons, the Blue Jackets secured their young stars and signature players to long-term contracts including team captain Rick Nash, R.J. Umberger, Rusty Klesla, Derick Brassard and Antoine Vermette, amongst many others.
– Nikita Filatov returned from his stint in the Kontinental Hockey League (KHL) to provide the kind of offensive proficiency and skills akin to a top-tier UFA signing.
– That Brassard and Jakub Voracek would no longer be limited in former head coach Ken Hitchcock's defense-first, two-way system and would realize the potential worthy of their being selected in the first round by the Blue Jackets.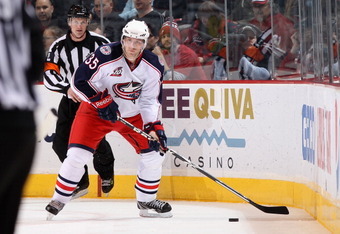 – The Blue Jackets hired new head coach Scott Arniel and an entirely new coaching staff equipped with running a more up-tempo system.
– That his corps of stay-at-home defensemen, most notably Jan Hejda and Mike Commodore, would adapt to this new up-tempo system.
– That two of his offensively-minded defensemen—Kris Russell and Anton Stralman—would thrive in this new system.
– That a cadre of young defensemen—Nick Holden, Cody Goloubef and John Moore—were waiting in the wings to take over the reins in the very near future and would easily adapt and thrive in this new system.
– Steve Mason, the former Calder Trophy winner who suffered through a horrendous sophomore season, was also granted an extension as a good faith measure of his returning to form.
– In signing two former NHL team captains, Ethan Moreau (formerly of the Edmonton Oilers) over the summer and Chris Clark (formerly of the Washington Capitals) in a December 2009 trade with the Washington Capitals, the Blue Jackets would fill a leadership void that apparently was thought to be missing.
I, amongst other writers, offered that opportunities to obtain solid puck-moving, offensively-minded defensemen did exist and could be had within the financial constraints that exist with the organization.
However, Howson stuck to his vision and view that his tenants would be the very solution to turn around the disappointing 2009-2010 season.
The early results of this conservative, "as is" decision were quite successful as the Blue Jackets stormed out to a 14-6-0 record.
However, since that franchise-best start, the Blue Jackets are mired in a 6-14-3 nosedive and have plummeted from vying for the Western Conference lead, when they last played a "home and home" series against the Detroit Red Wings on November 26 and 28, to occupying the 13th position in the Western Conference with a 20-20-3 mark.
Worse yet, the Blue Jackets have lost five straight games, and with another "home and home" series looming against the Red Wings, not to mention having four of its next six games on the road, they stand to plummet even farther toward the bottom of the Western Conference standings and possibly missing the Stanley Cup playoffs for a second consecutive season, and ninth time in the past 10 years.
So, why can't Scott Howson swing a blockbuster deal, one to shake the very core of the organization and possibly position itself for the playoffs, before the opportunity is for naught?
Besides those four restrictions that prevent him from doing so, missing that window of opportunity during the summer has now hamstrung Howson toward making any signature moves to rectify a sinking ship.  NHL GMs know that Howson will have to part with valued prospects or key players to land someone who can make an immediate impact.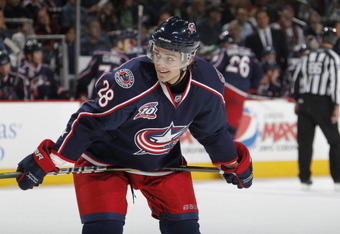 This is why rumored trades with the New Jersey Devils—recently waived and disgruntled defenseman Mike Commodore in exchange for recently waived (but recently taken off of waivers, returning to the Devils' parent team) Brian Rolston—and the Pittsburgh Penguins (defenseman Alex Goligoski for former No. 1 pick Nikita Filatov) never materialized.
That is because, due to the team's recent slide, Howson has little or no leverage, at least any that doesn't come with a steep price.  What do successful or struggling teams have to lose in upping the ante?  Nothing, and they and Scott Howson know it.
So, unless the Blue Jackets find the magic switch and return to their winning, early season form, they can only look back at that missed window of opportunity as to why they will not return to playoff consideration unless massive, wholesale changes are made, either at the trade deadline or during this summer's UFA signing period.
Follow paulmbanks