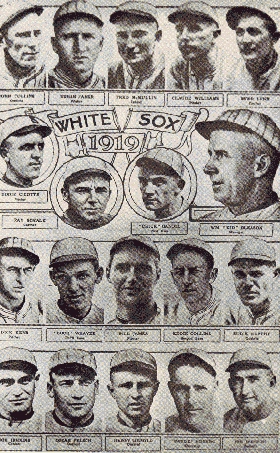 Sunday sees the ending of the Chicago White Sox season, with not much of note to show for it, except Tim Anderson winning the batting title. Tuesday marks the centennial of the beginning of the most intriguing and interesting thing the White Sox, or anyone else in sports for that matter, has ever done.
We are referring of course to the 1919 World Series, which will forever be defined by the Black Sox scandal, in which eight ballplayers were forever evicted from the game, due to their conspiring to intentionally suffer defeat. The Sox were heavily favored to beat the National League-champion Reds that fall classic, which began Oct. 1, 1919, but fell behind 4-1 in the best-of-nine, and lost in game eight (they were experimenting with the format that autumn). Eight Sox players, including one of the most mythical figures in baseball history, "Shoeless" Joe Jackson, were charged in 1920 with conspiring to throw the Series, but were acquitted.
Society's views on gambling and sports gambling have really changed a lot in the past century. In 2018, a landmark Supreme Court ruling essentially paved the way to legalize sports gambling in the United States, and now we're seeing it thrive in new places like Pennsylvania and New Jersey. In fact pa online sports betting is taking off, and now we're seeing a lot of wagering action proliferate, in places other than Atlantic City or Las Vegas. It's coast to coast now.
Despite their found being not guilty in a court of law, the eight Chicago White Sox players: Jackson, Eddie Cicotte, Lefty Williams, Chick Gandil, Hap Felsch, Swede Risberg, Buck Weaver (don't you love WWI era baseball player nicknames) and Fred McMullin, were disallowed from playing Major League Baseball ever again.
And I really say without hyperbole that is the most interesting event in all of sport. It's perfect material for an ESPN "30 for 30," CNBC "American Greed," Comedy Central "Drunk History," and of course, our podcast "Let's Get Weird, Sports."
As F. Scott Fitzgerald famously said, crooked business is the only kind of business that anyone is interested in reading about. Naturally, the Black Sox World Series was referenced in Fitz's "The Great Gatsby."
The scandal came to popular consciousness via Elliot Asinof's must read 1963 tome "Eight Men Out," the 1988 John Sayles based off it and of course the timeless classic "Field of Dreams."
It will be back at the forefront next summer again when the Sox play the Yankees in the "MLB at Field of Dreams" game on Aug. 13 in Dyersville, Iowa.
However, don't be surprised if the Black Sox centennial comes and goes next week with little fanfare. Events of 100 years ago, no matter how big, don't always resonate with people these days. And although the golden era of baseball movie making (Cooperstown agrees with me on this) was the mid to late 1980s, and they covered this topic twice, good luck talking about these guys with a millenial of Gen-Z.
As for the White Sox themselves, they don't purposely avoid the 1919 World Series, but they won't be celebrating it either.
"It's part of our history," Sox senior V.P. for Comms Scott Reifert told the Chicago Tribune this past week.
"We tend to try to acknowledge things that mean something to our fans," Reifert said.
"That's so long ago. If you look at the statues in the outfield (concourse), we often talk, 'Should we have a statue of a guy from the 19-0-something team?'
"Other than it being a cool statue of an old player, nobody alive really saw that person play. That general mindset kind of applies in this case."
There is no reference to the Black Sox scandal itself at the ballpark the White Sox call home, but there is a team photo on the concourse walls.
Along the walls of the upper deck and middle tier, the ballpark has a chronological photo history of the club. In addition to the team photo, there are individual photos of Jackson, Cicotte, Weaver, Risberg and Felsch.
In some cases, in a classic example of extremist selective history, their photos highlight their series heroics. Hey, there are three types of lies: lies, damn lies and statistics.
The founding father of the Chicago White Sox, Charles Comiskey, is of course deified at the ballpark, but that doesn't tell the whole story. Comiskey was more than just the most miserly owner around, egregiously underpaying his players at an intelligence insulting level.
He was a horrifying exploiter of his labor, cutting corners and cheating his own players in manner that was borderline amoral.
At the Baseball Hall of Fame in Cooperstown, where Comiskey has a plaque, but Jackson does not, there are direct, overt references to the Black Sox collusion and conspiracy. They also have a few items, including the first ball thrown in game one and Cicotte's pocket watch.
You can learn a lot more about that over at this link. They don't have any Shoeless Joe artifacts, but only because of issues of provenance and verification. It's not about image or reputation.
Right across the street from the hall is a baseball trinkets and apparel store called Shoeless Joe's. Of course, a lot has changed in a century, and while gamblers were being chased out by back then, sports gambling is being embraced nowadays.
It won't be long until you can place a bet at some of the ballparks on the game you're going to see.
Makes the whole Draconian death penalty for being involved with gamblers seem kind of hypocritical now doesn't it? Also if you want to see some actual video footage from the 1919 Black Sox World Series, go to this link.
Paul M. Banks runs The Sports Bank.net, which is partnered with News Now. Banks, the author of "No,  I Can't Get You Free Tickets: Lessons Learned From a Life in the Sports Media Industry," regularly appears on WGN CLTV and co-hosts the "Let's Get Weird, Sports" podcast on SB Nation. 
You can follow Banks, a former writer for NBC Chicago.com and Chicago Tribune.com on Twitter here and his cat on Instagram at this link.
Follow paulmbanks