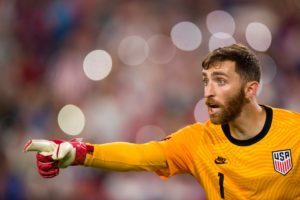 United States Men's National Team star Matt Turner has now said his final goodbyes to the New England Revolution and Major League Soccer. His transfer to Arsenal is imminent, and while he most likely won't be in contention for the No. 1 position in North London, he does have the potential to someday be the top gloveman in between the sticks for the Stars and Stripes, as the 2022 World Cup in Qatar draws closer.
Turner, who signed for around $6 million up-front (with a potential to reach up to $10 million in add-ons) in January, did not feature during the 2-1 victory over Minnesota yesterday.
Arsenal had pushed for an immediate transfer back in the winter transfer window, but the Revolution mandated it be a summer deal so that they would have time to find a replacement.
"There's definitely a lot of emotion," Turner said Sunday night.
"I'm still learning how to cope with all that. On top of that, my wife's in England nine months pregnant. So, I got a lot of stuff going on. So, maybe I wouldn't have put my best performance out there tonight., and then I'm kicking myself because I left on a bad note.
"So again, like I said before, I think you know the way everything should have gone and emotionally, I'm happy because of the way everybody made me feel tonight. I'm sad because I'm going to miss everybody, as well. But there's just so many other ones in between that it's hard to really articulate."
However, the 28-year-old American has already endeared himself to Gooners, despite not officially crossing the pond yet.
As Football London points out, Matt Turner
"was taking time to sign autographs for fans in the stand, but one of them made the mistake of wearing a Tottenham Hotspur shirt which didn't go unnoticed.

As Turner approached the supporter, he soon backed away and said "oh no, that's disgusting, that's disgusting," while pointing towards the top. He's not even an Arsenal player yet, but you would think he has been for several years and that's what makes him so likeable.
Incoming Arsenal goalkeeper Matt Turner refusing to sign a shirt for a fan wearing a Tottenham shirt ? ? pic.twitter.com/LREyNHOTNV

— Football Daily (@footballdaily) June 20, 2022
LOLOLOLOL! Well played, Matt Turner, well played.
Paul M. Banks is the owner/manager of The Bank (TheSportsBank.Net) and author of "Transatlantic Passage: How the English Premier League Redefined Soccer in America," as well as "No, I Can't Get You Free Tickets: Lessons Learned From a Life in the Sports Media Industry."
He has regularly appeared in WGN, Sports Illustrated and the Chicago Tribune, and he co-hosts the After Extra Time podcast, part of Edge of the Crowd Network. Follow him on Twitter and Instagram.
Related Posts via Categories