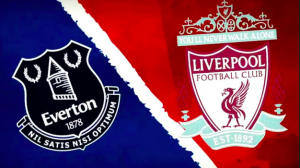 The 233rd renewal of the Liverpool-Everton series, a rivalry commonly known as the Merseyside derby, commences Sunday, and emotions will indeed be high. No series has seen more players get sent off than this one, and the two managers have engaged in a verbal tiff already on Friday.
Let's take a look at who the two bosses might select in the first teams this weekend, starting with Everton.
The Bank    Everton FC Starting XI Prediction for the Merseyside Derby (4-3-3)
Forwards: Richarlison    Bernard     Theo Walcott
Midfielders: Idressa Gueye    Gylfi Sigurdsson    Morgan Schneiderlin
Back line: Lucas Digne     Kurt Zouma    Michael Keane    Seamus Coleman
Goalkeeper: Jordan Pickford
The Bank    Liverpool FC Starting XI Prediction for the Merseyside Derby (4-3-3)
Forwards: Sadio Mane, Roberto Firmino, Mohamed Salah 
Midfielders:  Georginio Wijnaldum, Naby Keita, Fabinho
Back line:  Andrew Robertson, Joel Matip, Virgil van Dijk, Trent Alexander-Arnold
Goalkeeper:  Alisson
Merseyside Derby: Liverpool at Everton FYIs
Kickoff: Sunday, March 3, 4:15 PM local, 10:15 am CST
Injury Report for Both Teams: go to this link
Form: Liverpool DWDDW, Everton WLLLW
Google Result Probability: Liverpool 58%,  Draw 25%, Everton 17%  
Odds: Liverpool 7/11, Draw 16/5, Everton 5/1
Prediction: Liverpool 2, Everton 0
Paul M. Banks runs The Sports Bank.net, which is partnered with News Now. Banks, a former writer for NBC Chicago.com and Chicago Tribune.com, regularly appears as a guest pundit on WGN CLTV and co-hosts the "Let's Get Weird, Sports" podcast on SB Nation. 
He also contributes sociopolitical essays to Chicago Now. Follow him on Twitter and Instagram. The content of his cat's Instagram account is unquestionably superior to his
Powered by

Sidelines
Follow paulmbanks