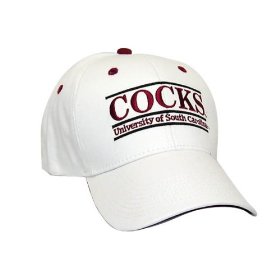 Of all the 1990s trends that have thankfully died out, I was really glad to see an end to all those STUPID white hats that frat-boy douches used to love wearing. The ones reading "BEAVERS" in huge letters with "Oregon State University" just below in smaller font.
And of course "COCKS" with "University of South Carolina" just above the brim.
"It's funny because it's slang for genitalia! HAHAHAHAHAHA.  It works on so many levels. OMG ! That's just too EFFING FUNNY! That is so clever, interesting, and unique. Please tell me where I can get one, so I can be witty and original!!!!!"
But hey at least the South Carolina Gamecocks had some fake, bandwagon fans for awhile because of these hats. Ok enough bread and circuses, let's talk SC FOOTBALL! Place at the table!
Why Do People Hate Kentucky So Much? Bill Raftery Has GREAT Answer https://t.co/9LjAqmCo4p#BBN #BBNStandUp #UKMBB #UKBB #finalfour #elite8

— Paul M. Banks (@PaulMBanks) March 28, 2017
2010 was:  exciting as they made the first SEC Title game appearance in school history. It did not end well. Neither did the bowl game that followed. Still SC could improve upon last year's 9 wins.
BMOCs: QB Stephen Garcia has been suspended five times! Five times! Yes, read that sentence like Dean Ed Rooney in "Ferris Bueller's Day Off" Your son has been absent nine times. Nine times! WR Alshon Jeffrey and RB Marcus Lattimore are All-American candidates. Jeffrey is as good as it gets when it comes to college football WRs. CB Stephon Gilmore and outside pass rushing specialist Devin Taylor could be first round NFL picks.
When it comes to the highest rated recruit in the nation, South Hill, Carolina's Jadeveon Clowney, I'm all in. I'm backing up the truck to buy his stock. He picked South Carolina over Clemson and Alabama, ending an extra 12 days of suspense. He won't start right away, but he'll play a lot, right off the bat.
His highlight reel is must see tv. Watch as he runs over and through everyone else. And it looks like he's about to step on everybody too; given his 6-6 frame.
2011 will be fruitful if: all that talent comes together, and the Ol' Ball Coach Steve Spurrier molds all the stellar personnel into their proper roles. It might also help if the starting signal caller refrains from getting suspended again.
2011 will be awful if: Garcia gets in trouble again; and lets what's between his ears ruin what he has going for him on the field. Connor Shaw is solid; but SC would be better served knowing who their leader is as early as possible. And maintaining that leader. The OL needs to be an exclamation mark, or at least a period, not a question mark. The pass defense was kind of broke last year; with all those returning starters in the 2011 secondary, no excuse for them not to step up.
Bottom Line:  9-1o wins. Anything short of a repeat SEC Title game appearance will disappoint fans in the palmetto state. You might notice I'm ranking them lower than many other prognosticators. It's because I'm not sold on Garcia. Maybe I'm biased against very talented people with severe baggage/issues/drama (dating all the crazy bitches I have during my lifetime, will make you hyper-aware of red flags when they surface) but I can't have faith in this team. I believe in the visor- he knows his stuff, band he'll whip people into shape. But if it was any position other than QB, I could live with a star player with off-the-field trouble. Just too important for leadership/chemistry issues.
Paul M. Banks runs The Sports Bank.net and TheBank.News, partnered with FOX Sports Engage Network. and News Now. Banks, a former writer for the Washington Times and NBC Chicago.com, contributes to Chicago Tribune.com, Bold, WGN CLTV and KOZN. 
Follow him on Twitter, Instagram, Sound Cloud, LinkedIn and YouTube
CHECK OUT ALL THE 77 IN 77s
#25 Mississippi State Bulldogs
#49 Georgia Tech Yellow Jackets
#50 Southern Miss Golden Eagles
Related Posts via Categories