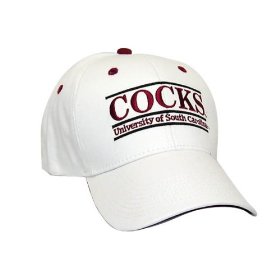 Of all the 1990s trends that have thankfully died out, I was really glad to see an end to all those STUPID white hats that frat-boy douches used to love wearing. The ones reading "BEAVERS" in huge letters with "Oregon State University" just below in smaller font.
And of course "COCKS" with "University of South Carolina" just above the brim.
"It's funny because it's slang for genitalia! HAHAHAHAHAHA.  It works on so many levels. OMG ! That's just too EFFING FUNNY! That is so clever, interesting, and unique. Please tell me where I can get one, so I can be witty and original!!!!!"
But hey at least the South Carolina Gamecocks had some fake, bandwagon fans for awhile because of these hats. Ok enough bread and circuses, let's talk SC FOOTBALL! Place at the table!
Follow paulmbanks