The Big Ten Conference will be well-represented on Sunday, Feb. 7, in Super Bowl XLIV with 20 former student-athletes and 13 coaches with previous conference connections on the rosters of the Indianapolis Colts and New Orleans Saints. The Big Ten leads all conferences with 20 players on the two Super Bowl squads, followed by the SEC (19 players), Big 12 (18), ACC (15) and Pac-10 (13).
All 11 Big Ten schools will be represented on the field or on the sidelines on Super Bowl Sunday, including former players from nine different programs and both head coaches. Michigan leads the way with four former players. Ohio State ranks second with three standouts, followed by two student-athletes each from Illinois, Indiana, Iowa, Northwestern, Purdue and Wisconsin. The Fighting Illini top all conference schools with four former assistant coaches set to take part in the Super Bowl, including New Orleans head coach Sean Payton. The Hawkeyes and Wildcats rate second with three former assistant coaches on the sidelines, including Indianapolis head coach Jim Caldwell, who played and coached at Iowa.
The Colts feature 10 former Big Ten student-athletes, including six on the active roster. Standouts from six different conference schools will take the field, including Illinois defensive back Kelvin Hayden, Iowa tight end Dallas Clark, Michigan running back Mike Hart, Michigan State defensive end Ervin Baldwin, Northwestern defensive lineman John Gill and Purdue quarterback Curtis Painter. In addition, four former Big Ten players are currently on the team's injured reserve list, including Hawkeyes defensive back Bob Sanders, Wolverines defensive back Marlin Jackson, Ohio State wide receiver Anthony Gonzalez and Wisconsin quarterback Jim Sorgi.
The Saints could highlight as many as 10 former Big Ten standouts, all on the active roster. Indiana, Michigan and Ohio State each boast two former players on the New Orleans roster, including the Hoosiers duo of cornerback Tracy Porter and wideout Courtney Roby, the Wolverines pair of wide receiver Adrian Arrington and center Jonathan Goodwin, and the Buckeyes tandem of cornerback Malcolm Jenkins and defensive end Will Smith. Other conference players on the roster include Illinois running back Pierre Thomas, Northwestern offensive tackle Zach Strief, Purdue quarterback Drew Brees and Wisconsin linebacker Jonathan Casillas.
Both head coaches and 11 assistant coaches that will be prowling the sidelines at Super Bowl XLIV boast Big Ten connections. Caldwell played at Iowa and was also an assistant for the Hawkeyes, Northwestern and Penn State, while Payton was an assistant coach at Illinois. The Colts staff also includes offensive coordinator Tom Moore (played at Iowa and served as an assistant at Iowa and Minnesota), defensive coordinator Larry Coyer (assistant at Iowa and Ohio State), running backs coach Gene Huey (assistant at Ohio State), special teams coach Ray Rychleski (assistant at Penn State), defensive assistant Bill Teerlinck (assistant at Indiana) and defensive line coach John Teerlinck (assistant at Illinois). The Saints staff also features special teams coach Greg McMahon (assistant at Minnesota and Illinois), running backs coach Brett Ingalls (assistant at Northwestern), offensive line coach Aaron Kromer (assistant at Northwestern), assistant special teams coach Mike Mallory (played at Michigan and served as an assistant at Indiana and Illinois) and tight ends coach Terry Malone (assistant at Michigan).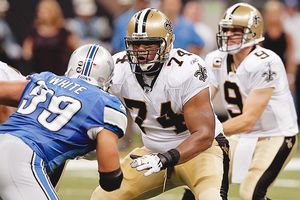 The complete list of Big Ten players and coaches set to participate in Super Bowl XLIV appears below:
2010 Super Bowl Participants from Big Ten Schools
Indianapolis Colts (10)
Name                                       Position           School
Kelvin Hayden                           DB                   Illinois
Dallas Clark                               TE                    Iowa
Bob Sanders*                           DB                   Iowa
Mike Hart                                  RB                    Michigan
Marlin Jackson*                         DB                   Michigan
Ervin Baldwin                            DE                   Michigan State
John Gill                                   DL                    Northwestern
Anthony Gonzalez*                    WR                   Ohio State
Curtis Painter                            QB                   Purdue
Jim Sorgi*                                 QB                   Wisconsin
Coaches
Jim Caldwell, Head Coach (Played at Iowa from 1973-76; Assistant at Iowa in 1977,
Northwestern in 1981 and Penn State from 1986-92)
Larry Coyer, Defensive Coordinator (Assistant at Iowa from 1974-77 and
Ohio State from 1991-92)
Gene Huey, Running Backs (Assistant at Ohio State from 1988-91)
Tom Moore, Senior Offensive Coordinator (Played at Iowa from 1957-60;
Assistant at Iowa from 1961-62 and Minnesota from 1972-73 and 1975-76)
Ray Rychleski, Special Teams (Assistant at Penn State in 1991)
Bill Teerlinck, Defensive Assistant (Assistant at Indiana from 2003-04)
John Teerlinck, Defensive Line (Assistant at Illinois from 1980-82)
New Orleans Saints (10)
Name                                       Position           School
Pierre Thomas                           RB                    Illinois
Tracy Porter                              CB                    Indiana
Courtney Roby                          WR                   Indiana
Adrian Arrington                        WR                   Michigan
Jonathan Goodwin                    C                      Michigan
Zach Strief                                OT                    Northwestern
Malcolm Jenkins                        CB                    Ohio State
Will Smith                                 DE                   Ohio State
Drew Brees                               QB                   Purdue
Jonathan Casillas                      LB                    Wisconsin
Coaches
Sean Payton, Head Coach (Assistant at Illinois in 1996)
Greg McMahon, Special Teams (Assistant at Minnesota from 1983-84 and
Illinois from 1992-2004)
Brett Ingalls, Running Backs (Assistant at Northwestern from 2006-08)
Aaron Kromer, Offensive Line/Running Game (Assistant at Northwestern from 1999-2000)
Mike Mallory, Assistant Special Teams (Played at Michigan from 1982-85;
Assistant at Indiana from 1986-87 and Illinois from 2001-05)
Terry Malone, Tight Ends (Assistant at Michigan from 1997-2005)
* Injured Reserve
And this year a Northwestern Wildcat is guaranteed to hoist the Lombardi Trophy for the fifth-straight year.
The Saints boast 2005 graduate and offensive lineman Zach Strief while the Colts feature 2008 graduate and defensive lineman John Gill. The winner will join Trai Essex (Pittsburgh, 2006), Matt Ulrich (Indianapolis, 2007), Barry Cofield (New York Giants, 2008) and Essex again in 2009 as Northwestern alumni with Super Bowl rings.
Thirteen Northwestern alums have participated in 14 previous Super Bowls. Strief and Gill both are making their first appearances in the big game. Strief — a first-team FWAA All-American in 2005 — was drafted by the Saints in the seventh round (210th overall) in 2006 while Gill was signed as an undrafted free agent first by the Detroit Lions and then by Indy following the 2009 draft. Gill moved from the Colts' practice squad to their main roster prior to the end of the regular season.
Follow paulmbanks
Related Posts via Categories