With the NFL lockout finally behind us, football fans can finally turn our attention from the courtrooms and onto the field, where it belongs. In the coming weeks, I will rank the fantasy studs, duds and sleepers for each division. Today, the NFC West gets some time under the spotlight.
Fantasy Studs
Quarterback: Kevin Kolb, AZ (2010: 1197 yards, 7 TD, 7 INT)
In all honesty, this is a division devoid of any real fantasy 'stud' quarterbacks. Sam Bradford could very well be on this list next year, but he's got some work to do (see: Sleepers). The closest thing right now (sorry T-Jack) is Kolb. He's a bit of an enigma after warming the bench in Philly. We keep hearing how talented he is, but injuries and time holding a clipboard make it tough to predict how Kolb will do when asked to throw a ball in Arizona. Can a guy with 11 career touchdowns be the guy in the desert? With Larry Fitzgerald and (newly-acquired) Todd Heap, the Cardinals are betting yes. Fantasy teams might not be as optimistic.
Running Back: Frank Gore, SF (2010: 853 rushing yards, 3 TD, 46 receptions, 452 yards, 2 TD)
A number of nagging injuries, and ultimately a fractured hip in week 12, forced Gore to only play 10 games last season. Even with a small body of work, he finished as a top-20 fantasy back. When he's healthy, Gore is incredibly good. But when is he healthy? He has not played a full season since 2006. If you can draft him for a reasonable price, it's worth pulling the trigger on a possible top-5 back by the end of the season.
Wide Receiver: Larry Fitzgerald, AZ (90 receptions, 1137 yards, 6 TD)
All the talent in the world won't help you if your quarterback can't throw a 5-yard slant. Fitzgerald made the most of his situation in 2010, but his fantasy production dropped nearly 50 points thanks to the ineffectiveness under center. Again, if you believe in Kolb, Fitzgerald can retake his spot as a top-5 fantasy receiver. Even if you're not sold, #11 has to put up better numbers than he did with John Skelton, right?
Wide Receiver: Sidney Rice, SEA (2010: 17 receptions, 280 yards, 2 TD)
A new start in the Emerald City was certainly needed for Sidney Rice. He was a beast in 2009, racking up 1312 yards and 8 touchdowns. Rice missed all of the 2010 training camp then started the season on the disabled list after undergoing surgery. When he came back, he joined a sinking ship in Minnesota, and still had a couple double-digit fantasy games. As the #1 receiver in Seattle, expect quality production for a reasonable price.
Tight End: Vernon Davis, SF (2010: 56 receptions, 914 yards, 7 TD)
Davis once again put up great numbers despite a quarterback carousel that included playing time for three quarterbacks. Despite it, the athletic freak went on to another top-5 fantasy finish. There's no reason to believe that it will not continue.
Defense/ST: None
The Cardinals were the #9 fantasy defense in 2010, thanks to scoring seven defensive touchdowns. That's the good. But the defense was also 30th in points allowed. No fantasy defensive squad is close to deserving a fantasy stud ranking.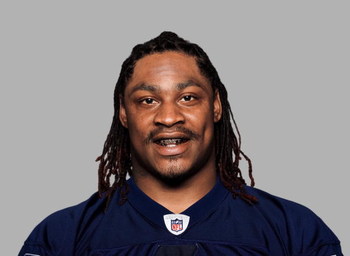 Fantasy Duds
Quarterback: Alex Smith, SF/Tavaris Jackson, SEA
You know it's a good division when you can put up two quarterbacks for fantasy duds. Ladies and gentleman, your 2011 NFC West quarterbacks! Smith and Jackson have both failed after multiple chances, but are being given one more this year. Do not be the fantasy owner that gives them another chance. Or, if you must, join my league so I can crush you every week.
Running Back: Marshawn Lynch, SEA (2010: 737 rushing yards, 6 TD, 22 receptions, 145 yards)
I'll give credit to Marshawn for having one of the most ridiculous playoff TD runs in the Wild Card matchup with New Orleans. But don't let one play fool you into thinking Lynch is a decent fantasy back. Despite playing a full 16 games, most as the starter, Lynch finished as the 31st rated back. Seattle's offensive line is better, but they are also counting on a pair of rookies to contribute right away. There are plenty of runners with upside that deserve your pick over Lynch.
Wide Receiver: Donnie Avery, STL (2010: N/A)
Avery was a second round pick for St. Louis, and proved to be a home run threat right from the start. But injuries cost him the entire 2010 season, and the team has added a number of receivers who will likely play above Avery. He's going in drafts above guys like Earl Bennett (NFC North fantasy sleeper) and teammate Mark Clayton. His production will not equal the expectations.
Wide Receiver: Golden Tate, SEA (2010: 21 receptions, 277 yards, 4 TD)
A lot was expected from the former Notre Dame product, and he fell quite short. It took Tate most of the season to become acclimated with the speed of the league and he did not produce when given playing time. Now, Tate must fight the more productive (and recent recipient of a multi-year deal) Ben Obomanu for a backup spot. Despite where Tate is being drafted (Top 85 for WRs), he will not end up a top-90 fantasy wideout.
Tight End: Jon Carlson, SEA (2010: 31 receptions, 318 yards, TD)
The Seahawks added the ultra-consistent Zach Miller this offseason, relegating Carlson to backup duty. Carlson has shown the ability to make big gains, with 11 plays of 25 yards or more in his young three year careers. But Seattle now has a better tight end who can't block, severely killing Carlson's fantasy appeal.
Defense/ST: Seattle, Arizona, San Francisco
Yep, they're not good. Don't own them. Moving on.
Fantasy Sleepers
Quarterback: Sam Bradford, STL (2010: 3512 yards, 18 TD, 15 INT)
It's hard to call Bradford a fantasy sleeper, considering his success as a rookie. But right now, he's a only a starter depending on the matchup. The Rams have stockpiled a number of weapons to help Bradford take the next step. His accuracy and decision making last year were impressive, but fantasy owners are looking for more. He averaged just six yards per attempt, meaning he rarely hit home runs. Some work with new OC Josh McDaniels should help that.
Running Back: Ryan Williams, AZ (2010: NA)
The Cardinals traded Tim Hightower to Washington, which should allow Williams to slide into the backup spot behind Beanie Wells. Given that Wells has seriously underperformed (397 rushing yards last year), it's only a matter of time before Williams starts seeing some serious playing time.
Wide Receiver: Andre Roberts, AZ (2010: 24 receptions, 307 yards, 2 TD)
With the departure of Steve Breaston, someone will have to line up across from Fitzgerald. Roberts stepped up to the plate when Stephen Williams and Early Doucet struggled last year, racking up a 110 yard game against Dallas in week 16. Roberts is fast and a good route-runner, and will likely get the first shot at the starting spot.
Wide Receiver: Danny Amendola, STL (2010: 85 receptions, 689 yards, 3 TD)
Amendola was the safety valve for Bradford last year, racking up an impressive 85 catches. He's sure-handed, an above-average route runner, and should take well to McDaniels' new offense. The catches will likely go down, but yards and touchdowns should go up.
Tight End: Lance Kendricks, STL (N/A)
Shhhh. Don't look now, but the third round pick out of Wisconsin is already running with the first team offense. He's an impressive receiver and works well in an open field. He's the kind of weapon that makes a splash as a rookie. Shhhh.
Defense/ST: St. Louis (2010: 108 points)
I can't just say that every defense is not worth owning, but it's very close. The Rams are young and old at the same time. The addition of DE Robert Quinn should allow James Hall to slide into a reserve role. If the secondary can grow up, this could be a serviceable fantasy unit.
Stephen Kelley is a contributor at The Sports Bank, covering Fantasy Sports and Pro Drafts. You can follow him on Twitter @stephen_tsb.
Related Posts via Categories