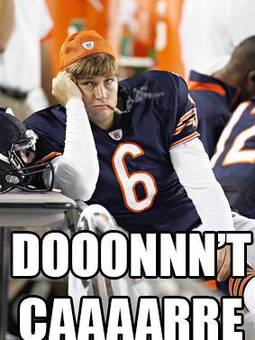 (UPDATE: Jay Cutler and FOX Sports both release statements announcing the former QB has retired and thus become a broadcaster; and a social media backlash ensues)
An eye-witness to the legendary Jay Cutler DON'T CARE bathroom incident. This is an exclusive interview, and to my knowledge, the first direct witness of this "event" to ever speak on the record. My source, who we'll refer to moving forward as "The Informant," has chosen to remain anonymous.
After all, this is "sensitive subject matter."
Paul M. Banks: About the Jay Cutler "don't care" story, willing to talk publicly about it? You can talk on the record and stay anonymous if you want.
The Informant: Oh, when he came in to my work? Yeah I remember it. It was at Japonais.
Banks: Someone was fawning all over him and did Jay cut him off by screaming: "don't care?"
Informant: I don't know if I'd go as far to say scream it. But he definitely said it to a person trying to relate to him.
Banks: So it took place at the Japonais bathroom, and the dude brought up Vanderbilt/SEC connections. True?
Informant: This is true. Dude was trying to talk about how he knew someone who played with Jay while Jay was at a urinal and Jay just sort of leaned back and said don't care in the middle of the sentence.
Oh, I was crying laughing when it happened. Pretty much legitimized every feeling I had about his demeanor.
So there you go- we now the exact location of the incident and the fact that Jay didn't actually yell the phrase that pays. I guess local legend embellished that part a bit. Still, the rest is dead on accurate.
And I can't leave out these other Chicago Bears and Jay Cutler opinions/thoughts from The Informant:
"Pretty much sums up his fan relationship. See if he "cares" about a contract season. Dude is such an emo. Sometimes we joke that his headset isn't even connected to the coach. He's just listening to Fall Out Boy or something. Unfortunately, as a Bears fan, that is the man I hand over all my hopes to."
Paul M. Banks runs The Sports Bank.net and TheBank.News, partnered with FOX Sports Engage Network. and News Now. Banks, a former writer for the Washington Times, NBC Chicago.com and Chicago Tribune.com, currently contributes to WGN CLTV and KOZN. 
Follow him on Twitter, Instagram, Sound Cloud, LinkedIn and YouTube
Related Posts via Categories