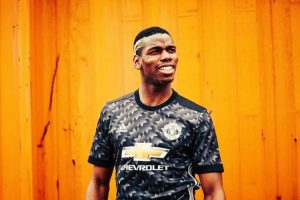 Paul Pogba is a top trending term on Twitter right now due to this amazing downfield pass he made to Marcus Rashford, who sent it in to give Manchester United a 1-0 lead at Tottenham Hotspur.
As of press time, that scoreline is still holding up in the 76′. Watch this absolutely stunning pass and utterly sublime finish below. This play thrilled the 80,000+ in attendance at Wembley Stadium and the millions worldwide who are watching on television. The play is trending on the internet due to all the football fans across the globe who have been posting footage of it, and expressing their awe and admiration.
That ball from pogba?
and the finish by Rashford?#TOTMUN
pic.twitter.com/yLRhEY0KJs

— Nabit (@Pogbalogy) January 13, 2019
Of course, the real hero today was David de Gea, who put in an 11 save, man of the match level performance.
For Pogba, he now has four goals and four assists since Ole Gunnar Solskjaer took over. No player on United has been involved in more scoring strikes since the managerial change was made.
If United hold on to win, Solskjaer will become the first manager in club history to win all six of his games across all competitions. As it stands right now, he's the first boss since Sir Matt Busby to emerge victorious in all of his first five. The revitalization and reactivation of Paul Pogba is a massive reason why. The Frenchman's passing ability is among the best in the world.
Look at this angle, and tweet caption, for another illustration of how and why that is.
Unreal vision from Pogba who assisted Rashford who's not even in the picture ??Best passer in the league #MUFC pic.twitter.com/SJChJUzXKv

— THE POWER MUFC ?? (@EamonnPower23) January 13, 2019
If United hold on to win, it would be their first victory over a big six rival this season.
Paul M. Banks runs The Sports Bank.net, which is partnered with News Now. Banks, a former writer for NBC Chicago.com and Chicago Tribune.com, regularly appears as a guest pundit on WGN CLTV and co-hosts the "Let's Get Weird, Sports" podcast on SB Nation. 
He also contributes sociopolitical essays to Chicago Now. Follow him on Twitter and Instagram. The content of his cat's Instagram account is unquestionably superior to his.
Powered by

Sidelines
Follow paulmbanks