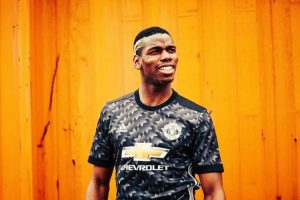 The rebuild of Manchester United could definitely take some time, so get ready and dig your heels in for that. The upshot is that we'll have a summer transfer window filled with many comings and goings. And with Manchester United linked to approximately 97,324 players already, the time is right for some Red Devils transfer talk.
In today's edition we start with the latest on Paul Pogba, "will he or won't he?" 
When it comes to transfer rumors linking Pogba, there really seems to be just two destinations with any kind of legitimate probability- Real Madrid and Juventus, the team from which he returned to United in 2016.
The Frenchman still has a great relationship with his former club and the idea of what the Serie A juggernaut could do, if they teamed him up with Cristiano Ronaldo is truly toe-curling for Juve supporters. 
Juventus also has a better relationship with Pogba's agent, the super-agent himself Mino Raiola, than Madrid does, but United just don't seem interested selling in the midfielder.
Of course, that could all change if they receive an offer they can't refuse. Such an offer might include some players going the other way, and if that is the case, then one might think Paulo Dybala would be at the top of Old Trafford's wish list.
Next we move on to an Aaron Wan-Bissaka fall-back option. For the latest on Crystal Palace playing hard-ball/asking an astronomical price for their stellar right back go to this link.
If AWB doesn't happen, then United may turn to Norwich City and move for Ben Aarons, according to Sky Sports. According to various reports, United have offered £40 million, but Selhurst Park are hoping for £60m.
There is a twist to this one though:
Sky Sports News understands Palace themselves hold an interest in Aarons, with Tottenham and Bundesliga side RB Leipzig also linked in recent months.
Aarons was named the Championship Young Player of the Year last season, so he is a man in demand right now. 
Finally, the future of Juan Mata remains unsettled. He has an offer on the table, reportedly for one more season, but the Spaniard has not made up his mind yet as the final weeks of his contract winds down.
He has been linked with a return to clubs in his homeland, including Barcelona, but it's hard to imagine the 31-year-old having a better situation in regards to playing time at the Camp Nou.
According to the Sun, Turkish rivals Fenerbahce and Galatasaray are prepared to go head-to-head for midfield maestro, in the hopes of getting him on a free.
United paid £37.1 million for him in January of 2014, when they acquired him from Chelsea.
Paul M. Banks runs The Sports Bank.net, which is partnered with News Now. Banks, the author of "No,  I Can't Get You Free Tickets: Lessons Learned From a Life in the Sports Media Industry," regularly appears on WGN CLTV and co-hosts the "Let's Get Weird, Sports" podcast on SB Nation. 
Banks, a former writer for NBC Chicago.com and Chicago Tribune.com, also contributes to Chicago Now. Follow him on Twitter and Instagram. The content of his cat's Instagram account is unquestionably superior to his.
Powered by

Sidelines
Follow paulmbanks