The countdown to the women's World Cup begins. We started with Alex Morgan today and now continue with Hope Solo.
We present some Hope Solo videos, photos, along with facts, figures and stories interspersed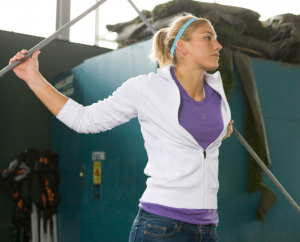 In 2011, America got to know their starting goalkeeper. Hope Solo became a national hero during the USA run to the women's World Cup title game.
Last summer, America again fell in love with their goalkeeper, as Tim Howard became an even bigger national hero during the men's World Cup. But Howard and Solo are as different as night and day. Howard is a PETA advocate, animal rights activist and part-time broadcaster.
He's idealistic and media savvy.
As for Solo, she has some "issues." And that is putting it mildly.
Her criminal rap sheet is very long, and rather disturbing to read.
More on Hope Solo and what she's doing these days here.
Paul M. Banks is the owner/manager of The Sports Bank. He's also the author of "Transatlantic Passage: How the English Premier League Redefined Soccer in America," and "No, I Can't Get You Free Tickets: Lessons Learned From a Life in the Sports Media Industry."
He's written for numerous publications, including the New York Daily News, Sports Illustrated and the Chicago Tribune. He regularly appears on NTD News and WGN News Now. Follow the website on Twitter and Instagram.
Related Posts via Categories