With the NFL lockout finally behind us, football fans can finally turn our attention from the courtrooms and onto the field, where it belongs. In the coming weeks, I will rank the fantasy studs, duds and sleepers for each division. Today, the NFC South gets some time under the spotlight.
Fantasy Studs
Quarterback: Drew Brees, NO (2010: 4620 yards, 33 TD, 22 INT)
Brees remains the cream of the crop in the NFC South despite a slightly disappointing 2010 season. Fantasy owners were more than happy with his yardage and touchdown totals, but he struggled with turnovers. Matt Ryan is giving him a run for his money this year, but Brees' production still warrants fantasy stud classification. In 2011, look for the Saints to rely more on the running game, with Pierre Thomas and Mark Ingram leading the ground attack. That should open up passing lanes and take pressure off of Brees, leading to a season similar to 2009's fantasy explosion.
Running Back: Michael Tuner, ATL (2010: 1371 yards, 12 TD, 12 receptions, 85 yards)
Despite his physical style of running, the Burner continues to produce quality fantasy seasons. With DeAngelo Williams and Jonathan Stewart splitting carries in Carolina, he's the clear-cut fantasy stud coming into the season. But while his numbers will look similar this year, owners in keeper leagues should be warned. Turner had six games with less than 75 yards rushing, and slowed down in a big way at the end of the year. There might be a couple years left on those legs, but the time to move on is coming up sooner than you think.
Wide Receiver: Roddy White, ATL (2010: 115 receptions, 1389 yards, 10 TD)
White exploded in 2010, with new TE Tony Gonzalez keeping defenses honest and allowing him to shine. While most would think the addition of Julio Jones would hurt White's productions, it will actually help him. Opposing defenses will no longer be able to roll over coverage, allowing more one-on-one opportunities on the outside. His receiving numbers will likely go down, but his yardage and touchdowns will remain the same. And more importantly, expect his red zone targets to remain high as well (he had 21 in 2010).
Wide Receiver: Mike Williams, TB (2010: 65 receptions, 964 yards, 11 TD)
At the beginning of last year, I was practically screaming about how good Mike Williams was going to be. Now I'm telling you, he's going to be even better. Williams' is a great fit for Tampa's offense, the team's primary receiver, and can (and often does) hit a homerun every time. As a fantasy owner, you also have to love his long term value, considering Josh Freeman is moving his way into the league's top quarterbacks.
Tight End: Kellen Winslow, TB (2010: 66 receptions, 730 yards, 5 TD)
For the first time in his career, Tony Gonzalez gets bumped from the studs list. Winslow is another guy reaping the benefits of Freeman's ascension. Winslow has led the Bucs in receptions the past two seasons, and despite continually battling nagging injuries, he does not allow it to affect his play on the field. Projected to be a superstar when he joined the league, Winslow has developed into a steady, reliable pass catcher.
Defense/ST: Atlanta (2010: 136 fantasy points)
It's a tough call to pick the Falcons D over the Saints, but Atlanta gets the edge thanks to the addition of Ray Edwards on the defensive line. Edwards should take some of the pressure off of John Abraham, and provide consistent pressure on opposing QBs. Jonathan Babineaux and Peria Jerry are underrated in the middle. The team forced 31 turnovers in 2010, and should only get better this season.
Fantasy Duds
Quarterback: Cam Newton (2010: NA)
Listen; if you're seeking out a fantasy article, chances are you know at least a little bit about fantasy football. So I'm sure you're aware that, while exciting to watch at Auburn, Cam is far from ready to compete in fantasy football. I could write more, but you don't agree with the previous statement, there's no hope.
Running Back: DeAngelo Williams & Jonathan Stewart, CAR (2010 combined stats: 1131 rushing yards, 3 TD, 19 receptions, 164 yards, TD)
Neither of these guys is expected to be a disappointing player, but they make this list because there is not "what could have been" list. After sharing the backfield (and carries) for the past three years, it finally looked like the two extremely talented runners were going to split, turning them each into fantasy gold. Instead, DeAngelo decided to resign with the Panthers, turning two fantasy studs into one frustrating disappointment for fantasy owners.
Wide Receiver: Steve Smith, CAR (2010: 46 receptions, 554 yards, 2 TD)
Smith suffered from poor quarterback play, topping 50 yards just four times in 2010. He had caught at least 980 yards and six touchdowns every year since 2002, but one year with Jimmy Clausen relegated him to the waiver wire. There's no reason to think that anything will change with Newton, Clausen year two, or Derek Anderson under center.
Wide Receiver: Devery Henderson, NO (2010: 34 receptions, 464 yards, TD)
In all honesty, this is a very good division except for the Panthers. The other three teams could all make a run at the Super Bowl this year. But someone has to be left behind, and on the Saints, that guy is Devery Henderson. Despite seeing regular time on the field, Henderson's production dipped in 2010, and he is dropping down the depth chart in a very talented, loaded receiving corp.
Tight End: Jeremy Shockey, CAR (2010: 41 receptions, 408 yards, 3 TD)
As if getting landing in Carolina was not bad enough, Shockey's fantasy stock took another blow with the addition of Greg Olsen. Shockey still has the talent, and will see the field, but he's far from a fantasy impact player anymore.
Defense/ST: Carolina (2010: 89 points)
We've done enough picking on the Panthers. My mom always said; if you have nothing nice to say, so say nothing at all. So, _________.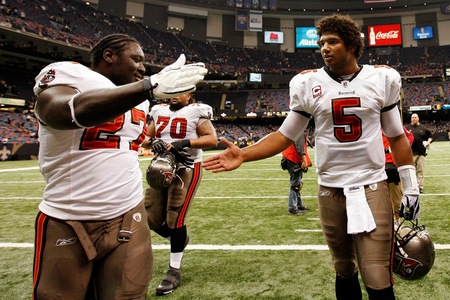 Fantasy Sleepers
Quarterback: Josh Freeman, TB (2010: 3451 yards, 25 TD, 6 INT)
Freeman is far from a sleeper at this point, bursting onto the scene last year with dependability (25 TD), ball security (only 6 INT) and a flair or the big play. With a bevy of young talent surrounding him, there's no telling how good he could be. And that's why he makes this list, because I expected top-8 production from him this season. Don't wait too long to snatch him up.
Running Back: LeGarrette Blount, TB (2010: 1007 yards, 6 TD, 5 receptions, 14 yards)
Blount went from a fantasy afterthought to fantasy savior when he closed the season with three 100 yard games in the final five weeks. Despite not getting meaningful carries until week 8, Blount still rushed for more than 1,000 yards. The departure of Cadillac Williams opens up even more carries for Blount, who figures to easily finish as a top-20 back this year.
Wide Receiver: Julio Jones, ATL (2010: NA)
The Falcons clearly are in love with Jones after dealing five picks to move up to draft the Alabama wideout. With White and Gonzalez on the team, you shouldn't expect immediate superstar numbers from Jones, but something around 60 catches, 700 yards and 7 touchdowns sounds pretty reasonable.
Wide Receiver: Arrelious Benn, TB (2010: 25 receptions, 395 yards, 2 TD)
Benn struggled to acclimate to the speed of the NFL, and when he finally did (4 catches, 122 yards in week 14) he tore his ACL. With a year of experience under his belt, Benn is ready to be a factor this season. Much like Jones, he'll be behind Winslow and Williams in terms of targets, but he'll make the most of his opportunities. Expect 50-60 catches, 650 yards, and four touchdowns. Not bad WR3 numbers for a guy going late in the draft.
Tight End: Jimmy Graham, NO (2010: 31 receptions, 356 yards, 5 TD)
Graham waited for his chance to shine in New Orleans' explosive offense, and when it happened, the then-rookie took advantage. The Saints thought so much of Graham that they cut ties with Shockey following the season. Graham never caught more than 5 balls or had more than 72 yards last year, but he's a solid target in the red zone. He's not a guy you want to overreach on, but if you need a tight end in the middle rounds, he's a solid option.
Defense/ST: Tampa Bay (2010: 114 points)
Don't expect much from the Buccaneers, but they're certainly a team worth keeping your eye on. Tampa did a huge overall on its defensive front, and has a lot of young talent. If that talent can come together under Raheem Morris, the team could become a solid fantasy option.
Stephen Kelley is a contributor at The Sports Bank where he covers Fantasy Sports and Pro Drafts. You can follow him on Twitter @stephen_tsb.
Related Posts via Categories