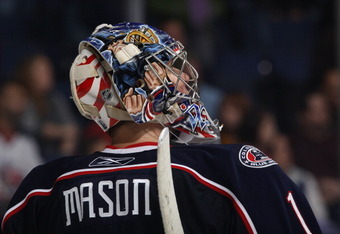 At the beginning of the 2010-2011 season, I wrote an article which asked whether Steve Mason's contract extension, particularly coming off of a horrid season—known also as the sophomore jinx—was good or bad
Well, after another dreadful Mason performance, one in which he was blistered early and often by the upstart Edmonton Oilers, it now begs another question:
Is it time to pull the plug?
By Ed Cmar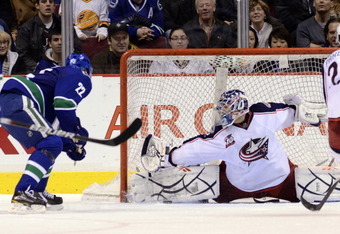 As was often the case for most of Mason's sophomore 2009-2010 season, one in which he often was out of position, didn't use his size (6'4″, 215 lb.) accordingly and fell into bad habits not previously seen during his Calder Trophy-winning season, Mason is once again falling into those habits during this season.
Mason has been pulled a league-leading four times so far this season, a staggering figure considering Mason's played in only 20 games. Mason has been pulled a grand total of 12 times since the start of last season, which leads the NHL. Mason has also been pulled in his last two starts.
Here are Mason's statistics in games in which he's been pulled early—this isn't for the faint of heart:
GAA: 10.62
Save%: .746
But here's a more telling statistic, one in which lends to concerns that Mason may be another in a long line of "one-hit wonders", goaltenders who dazzle the league at the beginning, only to fall into obscurity afterwards. Goaltenders like Andrew Raycroft and Jim Carey come to mind.
Here are Mason's statistics at the halfway point, last season:
GAA: 3.28
Save%: .890
Now, here are Mason's statistics, so far this season:
GAA: 3.29
Save%: .900
Does anyone see a similarity, here?
What's most baffling about Mason's struggles since his inaugural season is that his dazzling performance was done without the luxury of a goaltending consultant, as Clint Malarchuk, due to a shotgun accident, was not available to assist Mason. Thus, Mason was without any goaltending consultant or coach. If Mason was beaten during his rookie season, it was generally glove hand high or via a wrap-around attempt.
Since that rookie season, the Blue Jackets have brought on Dave Rook, the man who was Mason's goaltending consultant during his rise through the Junior ranks and eventually up to the NHL level. The result? Mason has fallen prey to being beaten in spots not previously seen before:  5-hole, blocker hand low, glove hand low.
He has also succumbed to struggling with controlling rebounds, as evidenced by the seemingly innocuous goal allowed against Edmonton Oiler rookie Linus Omark, last night. Omark floated a puck in from the blue line which seemed to confuse Mason, thus Mason left an opportune rebound which a young sniper like Omark buried into the net. After that, Mason was flustered and the rout was on.
Well, as the Blue Jackets are nearly repeating the pattern of a December swoon which immediately follows a promising start, and given the 25% drop in Full-Season Equivalents (FSEs) tickets sold this season as a result of last season's freefall, they simply cannot afford a similar result.
So what to do about Mason?
An immediate fix would be to bench Mason and utilize Mathieu Garon as your starting netminder. But if you do so, you could possibly shatter Mason's confidence, but that contract extension was designed to provide that to Mason as a good faith show of confidence. As it hasn't worked and as Garon is being paid $1.2 million to serve as the backup netminder, it may be time to suck in the pride and the investment made in Mason—$2.9 million each for the 2011-2012 and 2012-2013 seasons—and attempt to salvage a playoff berth.
Some have speculated that Garon is best served as a backup and that he may not be considered starting netminder material. However, during the 2007-2008 season, Garon took over the starting netminder role for the Edmonton Oilers and nearly carried them into the playoffs with a 26-18-1 record until an injury would befell Garon for the last four weeks of that season. Additionally, Garon was the starting goalie for the Los Angeles Kings during the 2005-2006 season and posted a record of 31-26-3.
Another option is to option Mason to the Blue Jackets American Hockey League (AHL) affiliate in Springfield, Massachusetts. That, however, would be foolhardy as it leaves you without a quality netminder to back up Garon. Gustaf Wesslau, a Swedish goaltending two-way contract signee, has struggled mightily in Springfield, with a GAA of 3.81 and a Save% of .874.
The only other option is to try to cart Mason out as the starting netminder and see how he responds, early on in the game. This is a risky proposition. Coach Scott Arniel employed that "quick hook" method during a game against the Calgary Flames when Mason gave up two quick, suspect goals on four Flames' shot on goal. Arniel replaced Mason with Garon and the Blue Jackets gutted their way into a 2-2 tie, only to fall short in Overtime. But how many times, and how quickly, do you employ this method until you're totally depleted any confidence Mason still has? And how does a goaltender like Garon take that "second fiddle", bullpen role, both physically and mentally?
So, how does coach Scott Arniel handle this tricky situation? Moreover, how does General Manager Scott Howson respond to critics who questioned re-signing Mason after coming off of a disastrous 2009-2010 season?
Either way, the implications as well as the fan's patience, should a repeat freefall occur in the upcoming months, will be worth watching.
Related Posts via Categories