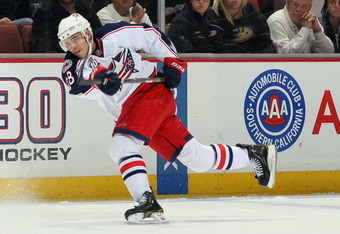 Towards the beginning of the 2009-10 season, I wrote an article which assessed Nikita Filatov's departure from the Columbus Blue Jackets only 19 games into the season:
While Filatov hasn't defected back to the Kontinental Hockey League (KHL) and while Filatov's issues don't stem from a coach who isn't known for being open-minded and patient with younger players, once again Filatov and the Blue Jackets, who drafted him with the sixth overall pick in the 2008 NHL Entry Draft, are at the crossroads.
Filatov returned to the Blue Jackets after spending the remainder of the 2009-10 season with both his assigned KHL team—CSKA Moscow, as part of a loan agreement between the Blue Jackets and the KHL team—and the Russian World Junior Championship (WJC) team.
The experience of his return to Russia was not without controversy as it was rumored that his experience in the KHL was less than positive, to the point that Filatov is not exactly welcomed back with open arms.  Additionally, Filatov was stripped of his captaincy during the WJCs, only adding to the speculation that his only available option was to return to the NHL.
By Ed Cmar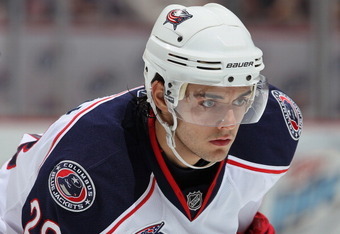 The negativity was not isolated to Russia—Filatov also had some bridges to mend with the Blue Jackets, the result of an interview in which he made some less-than-flattering comments about his former head coach, Ken Hitchcock as well as his experience with the organization.  His Blue Jacket teammates, particularly his younger teammates, most notably Derick Brassard and Jakub Voracek, were reportedly upset over his decision to leave the team and instead opt to return home to Russia.
To his credit, Filatov returned over a month before training camp started in September in fantastic condition and made every effort to mend any tattered relationships he may have had with his teammates.  While he wasn't spectacular in either training camp or in the pre-season, it seemed that Filatov had positioned himself to make this go-around with the Blue Jackets a successful one.
Then the regular season started.
Filatov started on the Blue Jackets second forward line, nicknamed the 06-07-08 line as it consisted of the Blue Jackets' dirst round draft picks for years 2006 (Brassard), 2007 (Voracek) and 2008 (Filatov).  The line struggled through the first six games and coach Scott Arniel, in an attempt to shake up the lines and the team through its shaky start, moved Voracek and Brassard up to the first line with Rick Nash, while Filatov was shuttled between the Blue Jackets' second and fourth lines.
Filatov struggled on the offensive and defensive ends, as well as struggling to provide consistent effort during games, often looking both lost and disinterested.
The Blue Jackets came out of the box and registered an impressive 13-6-0 start to the season, their most recent victory coming against their arch nemesis, the Nashville Predators.  While Filatov may not have had a hand in any scoring, he was engaged in battling for loose pucks and a willingness to employ a physical style of play.  So, maybe it was just a matter of time before Filatov would get untracked, offensively.
Then, on Nov. 24, Filatov was benched (healthy scratch) for sleeping in on a mandatory team meeting prior to their game against the New York Islanders.
It was after his return to the lineup that Filatov really struggled on the ice, often appearing disengaged and now timid to even shoot the puck, often not even registering a shot on goal even while on the power play unit.
These struggles culminated in the decision to send Filatov to the Blue Jackets American Hockey League (AHL) affiliate in Springfield, Massachusetts and promote long-time AHL player Tom Sesito to the parent squad.
As mentioned above, Filatov's possible return to Russia appears no longer to be a possibility, so the options:  be a frequent healthy scratch, a return to the KHL, work through his struggles—for a team mired in a recent 2-6-3 slump—were limited for both Filatov and the Blue Jackets.
Which begs the question:  Now what?
Coach Scott Arniel no longer has the luxury to wait for Filatov to sort through his adjustment to the NHL as the team is struggling to get back on track.
Blue Jackets GM Scott Howson is faced with the pressure of drafting a player once ranked as the number two overall prospect by the International Scouting Service (ISS) and rated  number one by The Hockey News. However, it appears he cannot to adapt to the North American style of play.
Additionally, Howson is now faced with a player with diminished trade value, which was the reason Howson was unable to trade Filatov over the summer months, along with the concerns associated with drafting a player who bolted just 19 games into his inaugural first full season in the NHL.
Filatov is now faced with limited options, the pressure that accompanies his disappointing performance and an uncertain future in the NHL or elsewhere.  Filatov now must work on developing both his game and his confidence in the AHL, quite a sobering proposition and a far cry from the promise once bestowed upon him.
When you look at the both the scouting reports regarding Filatov, it would appear that his success would be a "slam dunk".
Here is the scouting report from Forecaster:
ASSETS: Is an explosive skater with slick moves and a keen ability to light the lamp. Has game-changing shiftiness and excellent offensive instincts.
FLAWS: Must add bulk to his 6-0 frame in order to maximize his scoring potential in the NHL. Needs to work on his defensive-zone coverage and increase his level of intensity.
CAREER POTENTIAL: Highly-skilled winger with defensive and consistency issues.
As it relates to comparisons, Filatov has been often compared by scouts to the following former or current NHL snipers and offensive stalwarts:  Alexander Semin, Pavel Bure, Phil Kessel and Paul Kariya.  Not a bad group to be compared with.
However, it has been both an inconsistent and frustrating ride for both the organization that drafted him and the player.
For an organization that has struggled with drafting and developing young players, this latest situation is one that will only add to the ire of an already impatient and frustrated fan base.
Related Posts via Categories