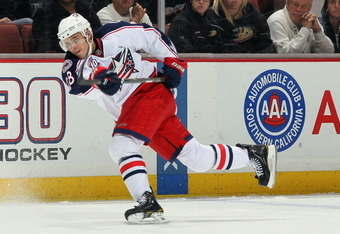 Towards the beginning of the 2009-10 season, I wrote an article which assessed Nikita Filatov's departure from the Columbus Blue Jackets only 19 games into the season:
While Filatov hasn't defected back to the Kontinental Hockey League (KHL) and while Filatov's issues don't stem from a coach who isn't known for being open-minded and patient with younger players, once again Filatov and the Blue Jackets, who drafted him with the sixth overall pick in the 2008 NHL Entry Draft, are at the crossroads.
Filatov returned to the Blue Jackets after spending the remainder of the 2009-10 season with both his assigned KHL team—CSKA Moscow, as part of a loan agreement between the Blue Jackets and the KHL team—and the Russian World Junior Championship (WJC) team.
The experience of his return to Russia was not without controversy as it was rumored that his experience in the KHL was less than positive, to the point that Filatov is not exactly welcomed back with open arms.  Additionally, Filatov was stripped of his captaincy during the WJCs, only adding to the speculation that his only available option was to return to the NHL.
By Ed Cmar
Follow paulmbanks