Happy Friday Manchester United supporters! There are just 13 more shopping days left until the summer transfer window deadline passes. And that means we have just 16 more days until the Premier League opener at home versus Chelsea FC.
There is nothing new at all to report in the pursuit of Bruno Fernandes or Harry Maguire, but there are plenty of other things going on, in terms of news relating to the club, so let's dive right in.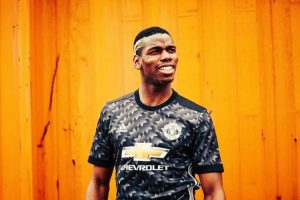 Will Paul Pogba stay or go? It's a song more overplayed than Lil Nas X and Billy Ray Cyrus' "Old Town Road," and today brought yet another plot twist to this summer transfer opera. According to ESPN today, Real Madrid are growing increasingly confident that they will actually land Pogba this summer.
It's supposedly going to take £180 million to get this deal over the line, but apparently there is a feeling that it might actually happen. ESPN FC writes that:
"Zinedine Zidane is keen to land Pogba, although club president Florentino Perez has needed convincing after spending over €300 million on new players already this summer.
Elsewhere, United are going to have to spend that money that's potentially coming in somewhere, and one target being linked to Old Trafford is Juventus forward Paulo Dybala.
Tottenham Hotspur are supposedly leading the derby to acquire his signature, over United, but now it seems like neither team will acquire him.
Hearing what new manager Maurizo Sarri has to say about Dybala, he's apparently in the boss' plans for the upcoming season in Turin.
Finally, as you know Major League Soccer is indeed red, with ex-United players Zlatan Ibrahimovic, Wayne Rooney and Bastian Schweinsteiger all plying their trade in MLS.
Tomorrow night, it's Rooney versus Schweinsteiger for perhaps the final time. Basti is in his third season with the Chicago Fire, and it remains to be seen whether he'll return for a fourth season in 2020.
He might, but given the deteriorating state of the team, their desperate need for a roster reboot, and just the transitional nature of the club right now as they massively revamp other components, one wonders if it actually makes sense for either side that Schweini comes back for a fourth year.
For the Fire, they could certainly use the designated player level salary, and invest it elsewhere.
For Schweinsteiger, although he's adjusted well to the unorthodox idea of being converted to a centre back, the team itself is going nowhere right now, and it's clear that his window for winning silverware in MLS with Chicago has closed.
Tomorrow night sees the Fire welcome Rooney and third place D.C. United, who are four points behind table topping Philadelphia Union.
This is Rooney's first full season with D.C. and last year they finished the regular season very strong, before totally choking in the MLS Cup playoffs.
As for the Fire, even with the needlessly expanded MLS playoff format, they are still out of the last qualification slot (seventh place) by seven points.
Yet to win a single road game in any competition this season, they are currently in tenth place, out of 12 teams in the MLS eastern conference.
As for the overall quality of MLS as a league, well, Ibrahimovic, Rooney and Schweinsteiger have all described the drop-off from Europe/the world's best footballing leagues to MLS in various different manners.
? Wayne Rooney ve Bastian Schweinsteiger ?#Legends pic.twitter.com/NdFA1wygZd

— Press Sport (@presssportcom) July 25, 2019
Wayne Rooney came to MLS and said the quality of play is higher than he expected. Schweinsteiger politely said it's not as bad as he thought.

Zlatan said it's the JV squad ?????

— Connor Cape (@MileHighCape) July 19, 2019
Not surprising that Ibrahimovic had the most colorful take out of the trio.
Paul M. Banks runs The Sports Bank.net, which is partnered with News Now. Banks, the author of "No,  I Can't Get You Free Tickets: Lessons Learned From a Life in the Sports Media Industry," regularly appears on WGN CLTV and co-hosts the "Let's Get Weird, Sports" podcast on SB Nation. 
You can follow Banks, a former writer for NBC Chicago.com and Chicago Tribune.com on Twitter here and his cat on Instagram at this link.
Powered by

Sidelines
Follow paulmbanks