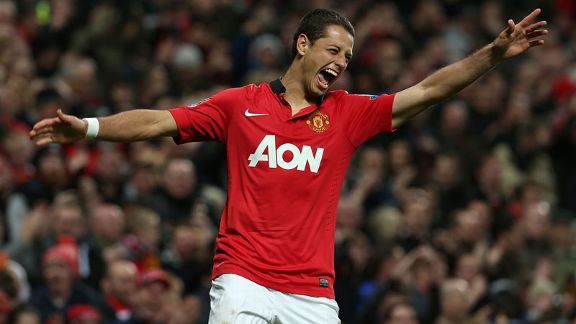 Six games without a defeat and three wins in a row – that's precisely what the doctor ordered for David Moyes and co. It is the sort of run that one would expect from Manchester United around this time of the year.  However, David Moyes will be more than cautious to fall into the trap of statistics and record books.
We are witnessing a different United. One that is being attacked at the Theater of Dreams and that is trying to find an identity under the new leadership. Teams are no longer afraid to take on the mighty reds at Old Trafford, as West Brom, Southampton and Stoke have shown in the recent past.
United's midfield issues have been well documented for the past 4-5 seasons. But no United supporter would have imagined that the post-Ferguson era's midfield will look something like Cleverley – Jones or Carrick – Jones. Surely additions will have to be made in the January transfer window if United are to challenge for the top 3 positions and reach the final stages of the Champions League.
Tuesday night's fixture against Real Sociedad should not be too unfamiliar for Manchester United. They've played against the likes of Villareal, Athletico Bilbao and Valencia in the past 5 seasons and will go out knowing what lies in store for them.
The Basque club, already staring at an early exit from Europe's top club competition, will come out with a very positive attitude. With three back-to-back defeats in the Champions League, Sociedad will try to show the same attacking flair that has given them 10 goals in their previous 3 matches.
Manchester United on the other hand are sitting at top of the group. A win against the seventh placed la liga outfit will more or less guarantee them a spot in the knock-out stages. But David Moyes may have to heed to the recent injury crisis his defense is facing. With Rafael and Jonny Evans left out of the squad, Moyes faces a tough time in deciding whether he could risk Evra, who picked a minor knock against Fulham, before the all important league fixture against Arsenal on Sunday.
Manchester United's midfield worries were further aggravated by Cleverley's absence in the second half at Craven Cottage. The midfielder did train with the squad on Monday morning but may not be available to start the game on Tuesday. With Michael Carrick out with a calf injury and Fellaini still finding his feet in the United set-up, Moyes will most likely turn to his old guard – Ryan Giggs.
United manager may also show a bit of a caution in playing Robin Van Persie as the forward has been receiving injections in order to manage a troublesome toe injury. This could be good news for the Mexican striker Javier Hernandez, who has netted 3 goals in his previous 2 appearances.
Probable XI
De Gea
Smalling    Ferdinand    Vidic    Buttner
Jones        Giggs
Valencia         Rooney     Kagawa
Hernandez
Prediction: 1-1
Follow paulmbanks