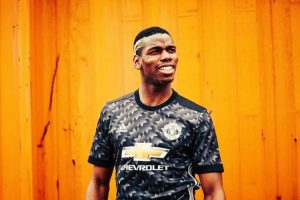 Manchester United showed signs of progress today in their 1-1 draw at Wolverhampton Wanderers, as they actually fell at the hands of Wolves twice last season. However, at the end of the day, United are now winless in their last four against Wolves, going back to last term.
Speaking of the number four, and covering the span of time that goes back to the beginning of the 2018-19 campaign- that's how many penalty kicks United midfielder Paul Pogba has missed over that duration of time. Striker Marcus Rashford however, has never missed a single PK for United, or England for that matter, and he's taken some big ones in his brief career.
Pogba won a penalty in the second half tonight, getting fouled by Conor Coady, and it was the Frenchman who then took the spot kick, not Rashford. The midfielder missed his attempt.
Yes, the idea of Pogba taking it over Rashford is extremely head-scratching; especially when considering that Rash had just converted from the spot eight days ago!
United manager Ole Gunnar Solskjaer explained the rationale and thought process involved here.
"The two of them are confident and good penalty takers," the Norwegian explained. "When there are two names there it's the one who's the most confident and Paul has scored so many before so absolutely no problem."
"Sometimes in a game you do grow in confidence. Sometimes; 'I don't want to take it today because I had a bad day.' I've got absolutely no problem with players walking up and saying, 'this is mine'."
"You can see the slides on the powerpoint."

Ole Gunnar Solskjaer explains why Paul Pogba took Man Utd's penalty in their 1-1 draw with Wolves instead of Marcus Rashford. pic.twitter.com/RHvwIFV0iE

— Sky Sports Premier League (@SkySportsPL) August 19, 2019
Rashford offered the following explanation:
"Paul wanted to take it, so he took it. Everyone can miss a penalty. He's scored countless of penalties for us. It's normal to miss one."
"We decide who wants to take it. The confidence you are going to score the goal is always the same. We practice all the time. There is no reason why we shouldn't score. It's not on Pogba, it's on the team."
So, it's up to the players to decide who gets to take the spot kicks, and not one central authority. Obviously, one can see how this could get problematic. United club legend and Sky Sports pundit Gary Neville slammed this practice after the match. This game was there for the taking, and United, as a whole, let it slip away in the second half.
It's easy to blame Pogba, but it's not fair. United had other chances to put Wolves away, but couldn't. Had they converted the PK, whether it was Pogba or Rashford or someone else taking it, it would have been enough to secure the win and goal differential enough to put the Red Devils atop the table heading into week three of the Premier League.
Paul M. Banks runs The Sports Bank.net, which is partnered with News Now. Banks, the author of "No,  I Can't Get You Free Tickets: Lessons Learned From a Life in the Sports Media Industry," regularly appears on WGN CLTV and co-hosts the "Let's Get Weird, Sports" podcast on SB Nation. 
You can follow Banks, a former writer for NBC Chicago.com and Chicago Tribune.com on Twitter here and his cat on Instagram at this link.
Powered by

Sidelines
Follow paulmbanks