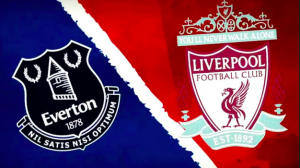 If the North London Derby is this Premier League weekend's heavyweight title fight, then the Merseyside Derby is the biggest undercard. It's always a huge deal when the two sides separated by just about one mile get together, but this edition is even bigger than usual with both sides currently inside the top six in the table.
Liverpool come into this match off the heels of a draining Champions League loss at Paris Saint-Germain on Wednesday night. The Reds midfield play in that defeat has come under fire, and Reds manager Jurgen Klopp will have some selection issues in that position group this weekend.
Adam Lallana and Alex Oxlade-Chamberlain remain long term absentees, while team captain Jordan Henderson is suspended after being sent off against Watford last weekend.
When asked about problems in the midfield today at his news conference, Klopp rejected that narrative (see 16:30 mark in the video further down).
"We have conceded five goals and you talk about our midfield being overrun?" Klopp said. "Sorry, I didn't see that. Yes, we could have scored more goals and been more creative. But no, I don't see any problems in midfield, to be honest."
He later got defensive when asked a confusing question about Henderson. On the other side, Everton head into the Merseyside Derby with a fully fit squad from which to choose from.
Merseyside Derby FYIs
Liverpool Starting XI Prediction: go to this link
Jurgen Klopp, Marco Silva Press Conference videos:
Kickoff: Sunday, December 2, 11:15 am EST, 4:15 pm GMT, Anfield, Liverpool
Merseyside Derby Odds via SportPesa: Liverpool FC 4/11  Draw 15/4   Everton 15/2
Prediction: Liverpool FC 3, Everton 1
As always, feel free to post your own Merseyside derby starting XI predictions, as well your best guess as to what the final score will be.
Paul M. Banks runs The Sports Bank.net, which is partnered with News Now. Banks, a former writer for NBC Chicago.com and Chicago Tribune.com, regularly appears as a guest pundit on WGN CLTV and co-hosts the "Let's Get Weird, Sports" podcast on SB Nation. 
He also contributes sociopolitical essays to Lineups.com and Chicago Now. Follow him on Twitter and Instagram. The content of his cat's Instagram account is unquestionably superior to his.
Follow paulmbanks