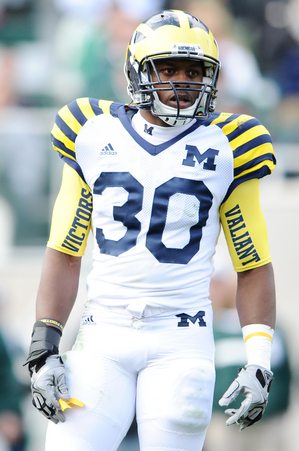 Two short seasons after starting his Michigan Wolverines career on one of the nation's worst defenses, Thomas Gordon, with the help of Brady Hoke, enters his senior season as an anchor on one of the nation's best defensive units.
Then again, they'll start two safeties today with zero combined starts. The Michigan Wolverines suspended Thomas Gordon today for the game versus Western Michigan.
After seeing action as a hybrid linebacker while a redshirt freshman, Gordon's move to safety his sophomore season has proved beneficial for the Michigan Wolverines defense. His ability to play both strong and free safety, overall athletic ability, and natural instincts make him a problem for opposing offenses and a target for NFL scouts.
Of course, they didn't tell us why. And no one who covers the Michigan Wolverines can tell us why. I'd copy and past the Brady Hoke statement, but you know how those things are. They never say anything worth while. Plus, you've probably already seen it.
Despite his experience and ability, however, Gordon does have some work to do, as does any incoming senior. A bit of inconsistency with a blown coverage here and there is expected, but a mistake while under the microscope of NFL scouts can mean the difference between a second- and fourth-round selection.
This offseason should have proved to be very beneficial for Gordon and the Wolverine defense.  And with high hopes going into the 2013 season, anything less productive than last year will be a major disappointment for Gordon and the Michigan Wolverines.
There aren't a lot of starters coming back on that unit.
Thomas Gordon at a glance:
                                    Tac         Ast         Tot     TFL       Yds      Sack     Yds      PBU      FR        Yds       FF
Career Total       100         71          171        9.5          39          3.0         27          4             4             0             3
Career Interception Returns
Num      Yds         TD           Lng
3               19               0             19
Follow paulmbanks