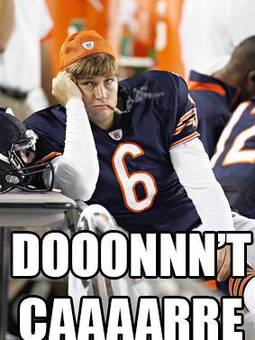 Our 2013 NFL mock draft is updated for the final time. Lots of changes. And we are a Chicago based website, so check out our latest analysis of the Bears draft prospects for all 7 rounds. And our Bears "Hindsight Draft." By the way, Hollywood is filming a movie about the NFL Draft at this year's draft in New York City. I guess they understand how much us sports bloggers obsess with this topic during the month of April.
Here's our 2014 NFL mock draft
And go here for the top NFL Draft related Twitter hashtags, @mentions and search topics.
By the way, here's our 7 round mock for 2013 And of course, our NBA mock drafts: 2013 and 2014. Yes, we're nerrrrrrrrds. Your hunch is correct.
Even though I'm a Big Ten homer, you'll see hardly any Big Ten representation in this mock. And you'll see lots of SEC.  Ever wonder what Big Ten school has produced the most 1st round picks these past five years? The answer will SHOCK YOU!
Oh and here's the list  of the schools that have produced the most NFL draft picks since 2000.
And you can take the 2013 NFL Draft aptitude Wonderlic test here!
And who knows, by the end of the draft weekend, we may actually have an openly gay player in the NFL
1. Kansas City, Luke Joeckel, OT, Texas A&M
The Chiefs are a complete mess; but at least they have a #1 overall drafted QB in Alex Smith via trade. Ciao Matt Cassel! New regimes usually mean new quarterbacks as Andy Reid took over in K.C. Joeckel came out of nowhere to become a blue chip prospect. He seems to be the consensus #1 pick right now, but everyone seems to be shaky about mocking him number one. It's like the least solid of all #1 overall picks in many years. Still everyone seems to be mocking him here. Chiefs have been paying attention to 2013 NFL mock draft since almost the season began.
It's a "fat boy draft" like Mike Mayock said! It's "not sexy," especially at the top. And this draft is the weirdest ever. Anything can happen. No NFL teams seem to be in love with anyone. And there's more uncertainty than in any other year I can recall. So it'll be fun to see how many picks all of us draft geeks get right Thursday night; especially vs Kiper, Mayock etc. Good luck to all who made a mock!
2. Jacksonville, Geno Smith, QB, West Virginia
We know how awful Blaine Gabbert is. Not just at quarterbacking, but at life too. Well, we don't actually know whether he's bad at life or not. But we know he's a terrible passer and a very bad teammate. And JAX can't "keep throwing good money after bad" as they say in corporate America. But if it was Gabbert throwing the money, it would almost always miss its mark. In the NFL Network group mock draft last night, Michael Irvin slotted Geno Smith, exactly like I have here in my mock draft.
Mayock thought this move took major cajones; I find it quite reasonable. Signal callers are drafted way too high every April; see Blaine Gabbert and Christian Ponder.
For more on Smith go here

3. Oakland, Shariff Floyd, DT, Florida
As of late-January 2013, Floyd was projected to be a late-first round selection, and the fourth defensive tackle off the board, according to Sports Illustrated. After the combine, SI moved Floyd up to the No. 3 selection overall, and No. 1 among defensive tackles. This is one name you'll see rising in every 2013 NFL mock draft. The Raiders have a history of drafting "measurables monsters," we know how much the organization prioritizes 40-yard dash times when it comes to making draft picks.
4. Philadelphia, Dion Jordan, DE/OLB, Oregon

Eric Fisher is still available on your board? Even after the Philly pick? Yes, because I'm crazy; kind of in the same way Chip Kelly is crazy. However, both of us get things done. Jordan came out of nowhere to become a star for the Ducks defense, which was greatly overshadowed by the offense on Chip Kelly's squad. Dion, who had the perhaps the best combine of all, could add linebacker depth and guess who's coaching the Eagles now? Jordan is one name you'll see in the top 5 of every 2013 NFL mock draft. And obviously Kelly is quite familiar with his work.
So much for the "dream team." Building a fantasy football team just doesn't work in the real world. The Eagles need to blow things up, The genius offensive mind of Chip Kelly will take someone who can protect his signal caller. Philly has some issues at tackle anyway.
Go here to hear Chip Kelly say "it's cool that I have a website named after myself"
To see the definitive collection of Oregon cheerleaders go here
5. Detroit Lions, Eric Fisher, OT, Central Michigan
What happened to the Lions this year? After the breakthrough in 2011, they're back to their losing ways. A lot of that is due to their defense, which is lacking in depth. Detroit's defensive end situation is like the city's crime rate- not exactly where you want it to be. They'll need to replenish Vanden Bosch and Avril. Ziggy Ansah is low on college football experience, but high on measurables. I'm predicting the Lions pass on Ansah though and instead try to protect the "China Doll" Matthew Stafford. They need help on both lines, but I'm guessing they go O.
Fisher is considered one of the top-32 players available in the 2013 NFL Draft. Even though had ever heard of him prior to February. Yes, that's partially because he went to a small school, but partially because I think this fat kid is kind of overhyped. He could join Joe Staley as the only Central Michigan player ever to be selected in the first round of an NFL Draft. Fisher is rated as the best overall prospect in the draft by Mike Mayock, yet I have him falling all the way to 10. Why? Well Mayock does good work, and I agree with him on a lot of points,
It's a "fat boy draft" like Mike Mayock said!
Besides we're here to predict what MIGHT HAPPEN not what always makes the MOST SENSE. Sometimes those two ideas overlap, other times they don't.
6. Cleveland Browns, DeMarcus Milliner, CB, Alabama
The Brownies have satisfied most of their needs via free agency, so they could go BPA here. Bama's D has been the best in the nation, and Milliner is the best DB they have. And the best corner prospect available. Yes, I know he's had five surgeries, I know there are claims his stock is dropping, I DON'T CARE! I still like Milliner over D.J. Haydon of Houston or Desmond Trufant of Washington or Xavier Rhodes from Florida State. It still makes sense as Cleveland rocks (in the words of Drew Carey) but they have only one legit cornerback.
DeMarcus could work well across from Joe Haden. For more on Milliner. Go here for the Alabama cheerleader photo gallery
7. Arizona, E.J. Manuel, QB, Florida State

Yes, we keep hearing that Arizona drafts BPA "Best Player Available." Yawn. Cliche. Why don't you throw in the useless shop-worn platitude "the hay is in the barn" while you're at it? We know what Cardinals quarterbacking is. There are to passing what Amanda Bynes is to self-control and discipline. Time for change, even if this is a MASSIVE STRETCH, Manuel is considered the second best signal caller on the boards. At least NFL.com's Mike Mayock ranks him 2nd among QBs in this draft.
Where else you gonna go? Smith was a stretch at two. But that's what happens on draft night, quarterbacks are overrated and over-drafted every year.
Speaking of Florida State, did you see what the Florida State cheerleaders, dance team an co-eds did to try and recruit #1 overall prospect Andrew Wiggins? Good stuff.
8. Buffalo, Matt Barkley, QB USC

The Bills went nowhere with Ryan Fitzpatrick, so they released him. They've finished last in the AFC East how many years in a row? And new regimes mean new quarterbacks. So Matt Barkley and his claims about how strong his shoulder is…we'll see. We're running out of options here. The Bills are down to either Barkley or Syracuse's Ryan Nassib at here at #8. QBs always go much much higher than they deserve; that's the nature of the game today.
Go here for more on Barkley.
Go here for the USC Cheerleader swimsuit photo gallery
9. New York Jets, Lane Johnson, OT Oklahoma
This is where the 2013 NFL mock draft breaks wide open and anything can happen. Oh who am I kidding? That actually started at #1. Ah the frat house/train wreck/reality show of the NFL. There are some people who think the Jets could be contenders next year. Yes, and there also people who think Kate Upton is fat.
Johnson has shot up the boards and is now projected as a top-10 pick, and the Chargers could use help rebuilding their offensive line. He'll start day one, even on this line, and his technique stood out at the senior bowl and he's one of the top athletes at his position.
10. Tennessee,  Ziggy Ansah, DE, BYU
Ansah is a really wild card in a really wild, wide open draft. No one had heard of this guy before January, now he's a top ten pick. Tennesse always seems to have depth but not talent at this position. And/or a lot of turnover in personnel at DE. I guess that Derrick Morgan thing didn't work out did it?
11. San Diego, Star Lotulelei, NT, Utah

Lotulelei has now been medically cleared regarding the heart condition that kept him out of the combine. He will undergo more testing this Month. I don't know where to put Lotulelei in this 2013 NFL mock draft. He's a top 5 talent, but the health concerns mean he could end up??? Anywhere? I put him up higher now because he's been cleared.
12. Miami,  Chance Warmack, G, Alabama
With the departure of Jake Long, I think we know what position Miami is drafting for. In almost every 2013 NFL mock draft you'll see the Dolphins going OL. The Dolphins are to blocking what Russell Crowe is to singing. Warmack is considered the best interior linemen available in the 2013 NFL mock Draft. NFL Network analyst and NBC commentator Mike Mayock considered him the best football player in the draft. Not since Chris Naeole in 1997 has a guard been selected in the top-10 of an NFL draft, but Warmack is considered to have a "chance" PUN INTENDED. Thanks, I'll be here all week. Remember, to tip your bartenders.For more on Warmack. Go here for the Alabama cheerleader photo gallery
The Dolphins need better protection for Ryan Tannehill, which they're going with as their franchise QB. And hey, he's got a hot wife, who broke the internet last NFL Draft, and happens to be doing some promotional work now. 
13. New York Jets, Sheldon Richardson, DT, Missouri
Wanted to go defensive back here at first, with the Darrelle Revis trade complete, but that's not going to happen. Milliner will be gone anyway and safeties don't get drafted that higher.  Rhodes and Haydon are still available, and Trufant is not a legit first round pick, but I'm still going here.
Richardson is a freakishly gifted athlete with a motor that just doesn't stop. He has great play recognition and instincts, and he has elite level explosiveness and closing speed. But he has a distinct lack of experience at the NCAA level. He only has one dominant season to his name. He also has a history of struggling with academics and instances where he has broken team policy.
Richardson seems like an athlete with all the raw tools to make it big in the NFL.
14. Carolina, Xavier Rhodes, CB, Florida State

In January 2013, Rhodes was projected as a first-round selection in the 2013 NFL mock Draft by Sports Illustrated. Florida State has not had one of their defensive backs selected in the first round since Patrick Robinson in 2010. Remember this is the school of Neon Deion $anders and Terrell Buckley, blue-chip corner prospects. Rhodes has length, size, speed and press man skills. I've a variance of players in the 2013 NFL mock draft at the #14 spot.
Speaking of Florida State, did you see what the Florida State cheerleaders, dance team an co-eds did to try and recruit #1 overall prospect Andrew Wiggins? Good stuff.
15. New Orleans, Barkevious Mingo, DE/OLB, LSU
With a name like this he has to be a first round pick. Barkevious Mingo sounds like something I would make up. Seriously, this is name is beyond ridiculous. This is one name you'll see rising in every 2013 NFL mock draft.  He had a huge combine. Go here for the LSU cheerleader gallery
By some measures the Saints had the worst defense in NFL history. So we know what side of the ball they'll choose for. In almost every 2013 NFL mock draft you'll see them taking a defender. Sometimes you get these "hometown" picks. It just makes sense and works out that way. And hearing this name reminds me of a Key & Peele sketch (video below)
16. St. Louis Rams, Cordarrelle Patterson, WR, Tennessee
With Danny Amendola now gone. It's a certainty the Rams will draft a WR either here or with the #16 pick. Pretty much every 2013 NFL mock draft will see the Rams taking a wideout early. The Rams also need to find a way to keep Sam Bradford upright. They did that in signing Jake Long.  In almost every 2013 NFL mock draft you'll see the Rams take a wideout.
17. Pittsburgh, Jarvis Jones, DE/OLB, Georgia

It seems like the Steelers draft a linebacker early in the draft every year doesn't it? Jones stock is dropping like Enron after some health issues were revealed. Well, that's for him, his medical team and his family to figure out. But if he wasn't 100%, he still had a hell of a season, and someone will take him in the first round. This is one name you'll see all over the place  in every 2013 NFL mock draft.
18. Dallas, Jonathan Cooper, G/C, North Carolina
Cooper brings great footwork, athleticism and power. You'll see him jumping up the board in every 2013 NFL mock draft. This is a pretty deep draft for linemen, on both sides of the ball. But I've often seen Dallas taking an OL in most 2013 NFL mock draft. GO HERE to go inside the Dallas Cowboys Cheerleaders locker room.
19. NY Giants, Tyler Eifert, TE, Notre Dame
Tyler Eifert may as well be Greg Olsen 2.0. He's a very tall, very lean tight end who relies on his speed and pass catching abilities. For a while, he even had the long hair to match. Eifert will go before Zach Ertz in the 2013 NFL mock draft.
For more on Eifert go here
If you don't like Chicago Bears QB Jay Cutler, you will now after reading THIS STORY because it makes Jay Cutler a million times more likable.
I actually told this story to a live audience at the world famous Laugh Factory in Chicago
20. Chicago Bears, Tavon Austin, WR, West Virginia
check out our latest analysis of the Bears draft prospects for all 7 rounds
Check out our Bears "Hindsight Draft."
This week I enlisted the help of my Chicago Bears beat writer Joey Flaherty. He does good work.
Here's his first Bears mock composite and his second.
The Bears already addressed their TE and OT needs with two big signings. Phil Emery kicked things off with a bang. Now he needs to correct the other mistakes of Jerry Angelo. Austin is just about as versatile as he is fast. And considering he ran a 4.34 second 40-yard dash last week, that makes him pretty damn versatile. Many have Austin going higher in the 2013 NFL mock draft.
He'll be limited almost exclusively to the slot on offense, and I'm not sure how he's going to react when he gets laid out by NFL-sized defenders on a regular basis.
Other Bears experts say it HAS to be an OT or LB. They're both right. I'm not going to say that OL or MLB isn't a pressing need. I'm just sticking with a WR in my mock draft because way too many times last year Brandon Marshall WAS the offense. He accounted for a ridiculous proportion of the catches, yards, overall production etc.
21. Cincinnati Bengals, Alec Ogletree, LB, Georgia

In September 2010, Ogletree was arrested and charged with misdemeanor theft stemming from a June incident of a stolen scooter helmet. Ogletree was suspended by Georgia for the first game of the season. In February 2013, just days before the 2013 NFL combine, Ogletree was arrested on charges of DUI in Arizona, per a statement released by his agent. So he doesn't he fit in well PERFECT with the CinciNAUGHTY Bengals? Seriously though, Ogletree has a great body of work versus tough SEC opponents. Notice how many SEC guys are in this mock, and how few are in the Big Ten?
22. St. Louis Rams (from Washington), DJ Fluker, OL, Alabama

You'll notice this mock has very few Big Ten players in it; and lots of SEC players.
Fluker is a physical beast. He started 36 games over his final three seasons at right tackle for Nick Saban and the Crimson Tide. His height and arm length allow him to maul oncoming defenders and keep them at bay as they pass rush. His 335 lbs are solid, and even though he's no Terron Armstead (a lineman who ran a 4.71 40-yard dash) when it comes to speed, he can still maneuver his size to create running lanes on the edge.
Fluker is no stranger to playing against top-flight talent having played in the SEC, and he plays with his heart on his sleeve. He wants to step into a leadership role on any team that drafts him, even at the young age of 21.
Go here for more on Fluker
23. Minnesota Vikings, Justin Hunter, WR, Tennessee
Now with Percy Harvin gone, this is a no brainer. This is one name you'll see rising in every 2013 NFL mock draft. The Vikings have no passing game at all. So they'll be desperate to take a WR. Justin Hunter is  generating a lot of first round buzz. The 6-foot-4, 196-pound Hunter has regained his speed and explosiveness following an ACL injury from two years ago. Hunter did play all of 2012, however. He totaled 73 receptions for 1,083 yards and nine touchdowns in an offense that also featured Patterson, who I have higher in the first round.mocked Zach Rogers and Mychal Rivera. He's one name you'll see rising in every 2013 NFL mock draft.
24. Indianapolis Colts, Barrett Jones, G/C, Alabama
The Colts could use more added protection for their franchise QB Andrew Luck This is one name you'll see rising in every 2013 NFL mock draft.
And what's a 2013 NFL mock draft without a few more Alabama players? Go here for more on Jones. Go here for the Alabama cheerleader photo gallery
While he doesn't blow anyone away with his athleticism, Jones made his name through constant effort and excellent fundamentals. He is efficient in both the running and passing game. Alabama coach Nick Saban has called Jones one of the top players he's ever been around and has even compared him to Hall of Fame lineman Bruce Matthews.
25. Vikings Bjoern Werner, DE/OLB, Florida State
Werner is a tremendous value pick and could play multiple positions in the Vikes defense. Sure, he was playing against a MAC team, but Werner made himself a lot more money the night of the Orange Bowl. The Vikings strengthened their receiving corps (hypothetically) with their first pick in this mock. I'm predicting they'll go D with the second pick. Speaking of Florida State, did you see what the Florida State cheerleaders, dance team an co-eds did to try and recruit #1 overall prospect Andrew Wiggins? Good stuff.
26. Green Bay Packers, Kenny Vaccaro, S, Texas
Ted Thompson is a value GM, and drafts as such. But then again given the way the 49ers gashed their defense, this is a needs pick too. Because you could say that about almost every position on D in Green Bay. The 2013 NFL mock draft is interesting for the Pack as you don't know which way they're going to go, it really should be defense. Of course, safeties don't often go very high on draft day though.
27. Houston, Damontre Moore, DE/OLB, Texas A&M
This is one name you'll see falling in every 2013 NFL mock draft. Looked top ten, until he ran a 4.9 and didn't participate in the other drills. adios first round! well not quite. Texans had depth to their strength-defense, to try and get over the hump. Value pick? Sure. He'll learn a lot from former Badgers star J.J. Watt and former Illini Whitney Mercilus.

28. Denver, Eddie Lacy, RB, Alabama

Eddie Lacy of the Alabama Crimson Tide could be a 2nd or 3rd round NFL Draft pick, and still be the first running back selected. As there's no stud running back in this class. Eddie Lacy finished the '12 season with 1,322 yards and 17 touchdowns.
The 17 rushing touchdowns are tied for the third most in single season Crimson Tide history. He averaged 6.5 yards per carry and 94.4 yards per game. In the national championship game DESTRUCTION of Notre Dame, Eddie Lacy was named the Offensive MVP after rushing for 140 yards and scoring two touchdowns.
For more on Lacy
29. New England Patriots, Kawann Short, DT, Purdue

They've drafted a lot of DBs lately, some of which have flopped, so maybe it's time to address the pass rush instead in this 2013 NFL mock draft, something they desperately need to do as well as their front seven is aging/bad.
Short's former coach Danny Hope described what makes Short so special on conference call.
"He really changes the game from the defensive tackle position," Hope said. "He could really be a dominant player on a national level. He's a 325, 330 pound tackle with a special athletic ability, so the better he gets the better we're going to get."  In 2010 he was second team All-Big Ten after finishing fourth in the Big Ten in both sacks (6.0) and tackles for loss (12.5). He led Purdue with eight passes broken up, and during the course of the season he blocked an extra point and a field goal.
Go here for more on Short
You'll notice this mock has very few Big Ten players in it; and lots of SEC players. Ever wonder what Big Ten school has produced the most 1st round picks these past five years? The answer will SHOCK YOU!
30. Atlanta, John Jenkins, DT, Georgia
You'll notice this mock has very few Big Ten players in it; and lots of SEC players. Sometimes you get these "hometown" picks. It just makes sense and works out that way. The Falcons allowed 4.8 yards per rush last year (29th in the NFL) and need to improve there. Defensive Line is probably their biggest need.
Go here for more on Jenkins
31. San Francisco, Jesse Williams, NT, Alabama

They don't have a lot of glaring needs, so I think they'll go BPA best player available, and make their already strong defense even stronger. Go here for more on Williams Yet again it wouldn't be a 2013 NFL mock draft without a ton of Crimson Tide players.
32. Baltimore, Keenan Allen WR, California
They should add depth at this position especially since Joe Flacco has now turned the corner as a QB. With Anquan Boldin now gone, this becomes even more of a pressing need. We hope you've enjoyed reading this 2013 NFL mock draft. To see former Ravens cheerleader Stacy Keibler cheerleader/bikini photos go here
This 2013 NFL mock draft is listed on the 2013 NFL mock draft databases for FF Toolbox, Walter Football Hail Redskins and DC Pro Sports Report
Here's our 2014 NFL mock draft
Paul M. Banks is the owner of The Sports Bank.net. He's also an author who also contributes regularly to MSN, Fox Sports , Chicago Now, Walter Football.com and Yardbarker
Banks has appeared on Comcast SportsNet and the History Channel, as well as Clear Channel, ESPN and CBS radio all over the world. President Barack Obama follows him on Twitter (@PaulMBanks)
Follow paulmbanks
Related Posts via Categories