It's the off-season for all club competition, almost all of the international play currently being staged are just meaningless friendlies, so you know what that means? It is indeed the summer silly season, i.e. time to talk some transfer rumors, and other assorted news items. So let's jump with the latest buzz surrounding the Arsenal.
United States Men's National Team star Matt Turner is officially no longer a member of the New England Revolution in Major League Soccer. Turner, who signed for around $6 million up-front (with a potential to reach up to $10 million in add-ons) is now officially an Arsenal man.
?? From New Jersey to north London…

Welcome home, Matty Turner ??

— Arsenal (@Arsenal) June 27, 2022
He's been acting like it for a little while already, as he snubbed an autograph seeker wearing a Tottenham shirt last week.
Today he was "unveiled," so to speak.
Mikel Arteta said: "Matt is an experienced goalkeeper who will bring high quality to our squad. He has shown with his performances in recent years in both the MLS and at international level with the United States that he is a goalkeeper who will give us added strength going into next season. We welcome Matt and his family to the club and we look forward to working together in the years to come."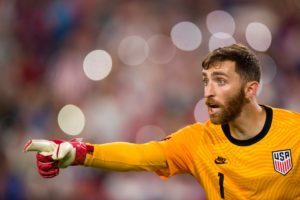 Technical director Edu added: "We are delighted that Matt is joining us. Matt is a goalkeeper with established qualities and experience, who will be a great addition to our squad. We identified Matt some time ago and worked hard to ensure that his transfer was complete so he could join us in time for our pre-season in July. We now look forward to Matt joining us, settling into his new home and working ahead of next season."
He wants to content for the No. 1 position in North London, of course, but Aaron Ramsdale has that locked down pretty much. Turner could beat out Zack Steffen of Manchester City and become the top man in between the sticks for the USA as the 2022 World Cup in Qatar.
? MT30 ? pic.twitter.com/9sZzoIlySO

— Arsenal (@Arsenal) June 27, 2022
He becomes the third signing of the summer for Arsenal, and four-time Premier League champion Gabriel Jesus will become the fourth. Arsenal and Manchester City have agreed on a  transfer fee of £45 million for the Brazilian international.  All that remains to be ironed out, in regards to the 25-year-old, are personal terms on this contract.
That's the last step towards getting this deal over the line, FINALLY! Man, has this one dragged out for a looooooooong time. So now that Arsenal has found Jesus, or possible striker salvation in Jesu, who will be the fifth signing of the summer?
It's another Brazilian forward, Raphinha, who currently plies his trade with Leeds United. Arsenal are in, but they will face competition for him from Tottenham Hotspur and Chelsea FC.
Here's more on him via Football.London and Just Arsenal.
Paul M. Banks is the owner/manager of The Bank (TheSportsBank.Net) and author of "Transatlantic Passage: How the English Premier League Redefined Soccer in America," as well as "No, I Can't Get You Free Tickets: Lessons Learned From a Life in the Sports Media Industry."
He has regularly appeared in WGN, Sports Illustrated and the Chicago Tribune, and he co-hosts the After Extra Time podcast, part of Edge of the Crowd Network. Follow him on Twitter and Instagram.
Follow paulmbanks
Related Posts via Categories