There's little doubt that, when it comes to adorability, Mega Detroit Red Wings fan Kristen Bell gives just about every actress in Hollywood a run for their money.
Besides being one of the most sought after actresses in Hollywood, with roles in movies like Forgetting Sarah Marshall and Get Him to the Greek, Ms. Bell rose to fame and garnered critical praise as the title role on the acclaimed television series Veronica Mars from September 2004 to May 2007 on UPN and The CW.
The 31-year old Kristen Bell was born and raised in Huntington Woods, Michigan, a suburb of Detroit.  Shortly after her high school graduation, Bell moved to New York City to attend the Tisch School of the Arts at New York University, majoring in musical theater.
At 24 Kristen Bell won the role of the title character in UPN's drama Veronica Mars, which was launched in the fall of 2004.  The series starred Kristen Bell as the seventeen year old detective Veronica Mars.  The series earned positive reviews from television critics, as did Bell's performance. Some critics felt that she was overlooked, however, and deserved an Emmy Award nomination.
In 2006, Kristen Bell was selected "World's Sexiest Vegetarian" on PETA's yearly poll.  She was placed #68 on 2005 "Hot 100" list, #11 in Maxim's 2006 "Hot 100" list, and #46 in Maxim's 2007 "Hot 100" list in which she was stated to have "single-handedly saved the from becoming the worst network ever."  In 2006, Maxim also placed Kristen Bell at the top of the "Fall TV's Criminally Sexy Investigators" List. In 2008, she was featured at #59 on Ask Men's Top 99 Women of 2008 List. Reflecting on her admitted popularity with "geeks", Kristen Bell was voted the fourth sexiest woman on TV by the staff at Wizard Magazine.
And to support her wholesome, girl-next-door image, in January 2011 it was announced that Kristen Bell would be the new face of Neutrogen.
Sports connection?  Not that it matters, but dare you ask?  Kristen Bell is a super-fan of her beloved, hometown Detroit Red Wings.
Puckheads love Bell for her passionate support for the Red Wings and she admitted that she actually cried when they were eliminated in the Stanley Cup playoffs at the hands of the Anaheim Ducks in 2007.
How passionate?  Case in point, her adoration for former Red Wings goaltender Chris Osgood:
"Chris Osgood was my first crush.  Brad Pitt be damned, he had nothing on Osgood's rookie skill and sad eyes.  There was actually a day in High School when I wrote on a name tag 'Mrs. Osgood' and wore it the whole day.  I really thought we were perfect for each other.  I'd love to meet him and probably apologize that things never worked out."
Wow!  Is that passion, or what?  I wonder if actor Dax Shepard, Ms. Bell's fiance`, is aware that stalker-esque devotion for Ozzie?
So, when it comes to adorability and her love for the greatest game on ice, Kristen Bell gets our vote as mega-WAG material.  Watch your back, Dax!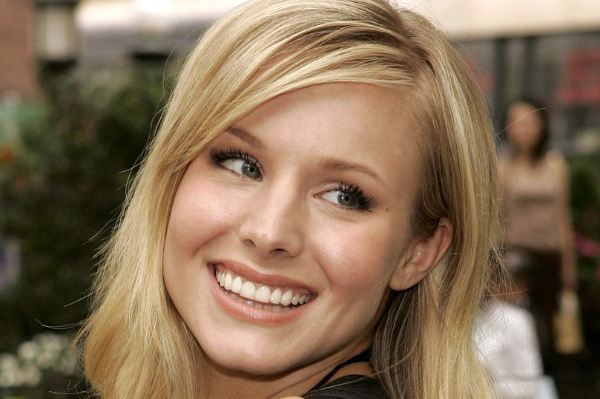 Related Posts via Categories