Are the Columbus Blue Jackets for real?
Lost in the Chicago Blackhawks' incredible, record-setting 21-0-3 start to their season was the recent surge of the Columbus Blue Jackets who have reeled off five consecutive victories as well as are riding a nine-game consecutive point streak (5-0-4) to improve to 10-12-6, thus escaping the National Hockey League's (NHL's) basement which they occupied all of last season and the first 21 games, this season.
And while their recent surge has surprised many, there are reasons as to why this isn't a mere mirage:
Message Sent, Message Received – Although the Blue Jackets went 1-5-2 during the games after former General Manager (GM) Scott Howson was fired, the change in atmosphere and the level of commitment was palpable.  The message that was sent can be summarized in three words, 'no free passes'.  The days of collecting a paycheck and the padding of individual statistics, primarily at the end of the year, were no longer.  Anything less than supreme commitment was unacceptable.  Any current effort was no longer to justify one's contract, rather, it was for survival, to remain with the 'brick by brick' rebuilding effort.  And during that 1-5-2 stretch, eight games of which were on the road, the Blue Jackets were extremely competitive.  There was no sense of sulking or quit in the team and, upon returning for a four-game home stand, their efforts and their fans were rewarded with four consecutive wins, including a fifth win at Joe Louis Arena, historically a 'Chamber of Horrors' for the Blue Jackets.
Believe in Bob – Last month, I wrote an article outlining how the Blue Jackets could surprise the pundits, this season http://www.thesportsbank.net/columbus-blue-jackets-2/how-the-columbus-blue-jackets-could-surprise-this-season-826/.  One of the primary ways that this could have been accomplished was twofold: 1) Settle on a number one goaltender and 2) that goaltender needed to be Sergei Bobrovsky.  Well, it appears that Bobrovsky, or Bob as he's known in the locker room, has become 'The Man' in net for the Blue Jackets and the results have been spectacular.  Bobrovsky was named the NHL's First Star of the Week this past weekend after going 4-0-0 and posting a sublime Goals Against Average (GAA) of 0.77 and an equally stellar Save Percentage (Save%) of .972.  Bobrovsky continued his stellar play in a shootout loss against the Vancouver Canucks where it appeared, for the first two periods at least, that his Blue Jackets teammates were leaning on him far too much, playing back on their heels.  But it's readily apparent that, barring an injury or a sudden downturn in performance, that Bobrovsky will be the goaltender who serves as the Blue Jackets workhorse for the remainder of the year.
The Kids Are Alright – Albeit primarily due to injuries to key veteran performers like James Wisniewski, Brandon Dubinsky, Artem Anisimov and Nikita Nikitin necessitated bringing up younger players such as Tim Erixon and Cody Goloubef and bringing back up Ryan Johansen, the former 4th overall pick in the 2010 NHL Entry Draft as well as extending minutes for young forwards Matt Calvert and Cam Atkinson.  Erixon has been a surprise with his solid play and overall poise, Johansen has asserted himself with his ability in the faceoff circle and has been both strong on the puck and an effective playmaker and Calvert has flashed the form of his 2010-2011 rookie campaign and has been a high-energy performer, particularly so on fore-checking.  The young gun's play has appeared to have rubbed off on the veteran players and reenergized what would have otherwise have previously been underwhelming play.
This recent change in fortunes has created a bit of a dilemma for the Blue Jackets, who are slated to have three 1st round picks in the upcoming 2013 NHL Entry Draft.  Their recent nine-game point streak has them currently placed 13th in the Western Conference standings and, were the drafted held today and their draft position were to stand, the Blue Jackets would select 7th, overall although the Blue Jackets have played 2-3 more games than three of the teams that they're ahead of.  And while it's certainly rewarding to treat their long-suffering fans with victories and improved effort, the upcoming NHL Entry Draft is slated to be quite stellar, particularly with the first 3-5 slated picks: Seth Jones, Jonathan Drouin, Sasha Barkov, Nate MacKinnon and Valeri Nichushkin.  Savvy NHL executives like Blue Jackets team President of Hockey Operations John Davidson and new GM Jarmo Kekalainen know this, so it will be quite interesting to see how this situation develops during the remaining weeks of the season.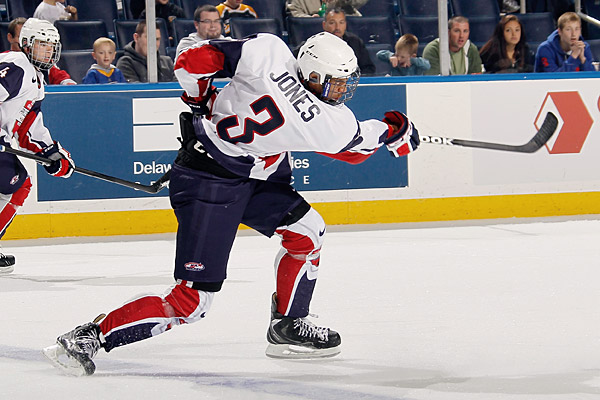 Although this recent surge in play has certainly been both impressive and encouraging, it should be noted that there is a lot that needs to be improved upon before the whispers of playoff contention should be uttered:  Seven of their last nine games have been in the friendly confines of Nationwide Arena and their road record this season stands at 3-8-1 with 12 of their final 17 games being played on the road at the conclusion of the remaining three consecutive home games; while improving to scoring 2.3 goals per game over this recent point streak, their overall goals per game raised only slightly to 2.25 goal per game, so the goal-scoring support must improve to take pressure off of Bobrovsky; the Blue Jackets rank 6th in the NHL in shots allowed and the shots allowed per game and have allowed more shots on goal (SOG) per game during this nine-game stretch than what they were surrendering during the previous 19 games played.
But, for the Blue Jackets long-suffering fans, this recent improvement in overall play and results has given those fans some reason for hope.  But, as John Davidson often utters, "Brick by brick" meaning, there's still a long way to go towards righting the ship of respectability.
Powered by

Sidelines
Follow paulmbanks
Related Posts via Categories