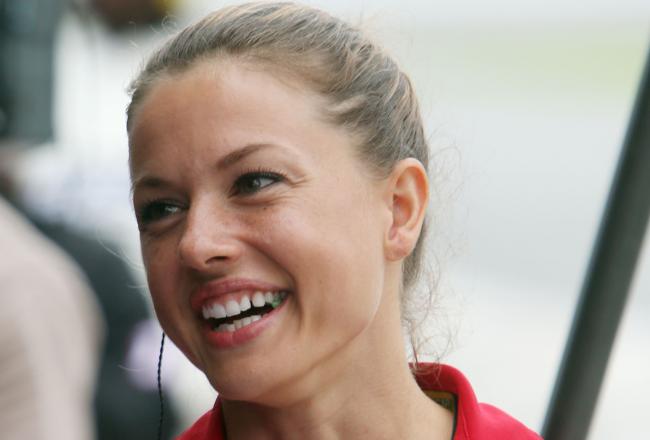 Her name is Christmas Abbott – and 'no' that's not a typographical error.
Christmas Abbott was discovered by NASCAR executive Ted Bullard who saw her videos and invited her to Charlotte, N.C., for a tryout. He set up a wheel and axel assembly station and she drilled the bolts with lightening speed. She will join NASCAR's year-long Truck Series and is excited about her debut, even if it comes with plenty of expectations.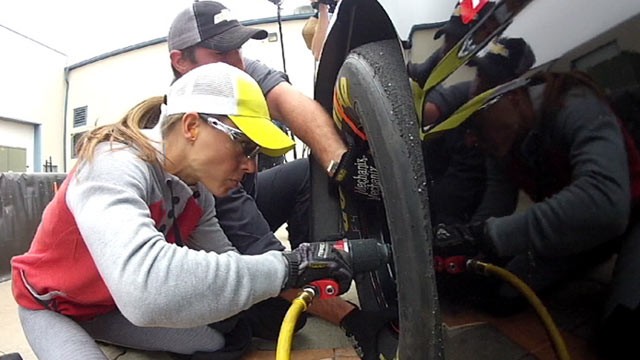 It's no secret that Danica Patrick occupies much of NASCAR's publicity and headlines, perhaps a bit too much given the relation of publicity garnered to actual performance – in short, victories – but there's another NASCAR participant who has captured the headlines as an even more improbable pioneer.
Christmas Abbott, who had previously become a CrossFit video sensation, was signed by Michael Waltrip's NASCAR racing team as a full-time member of its pit crew, thus becoming the first woman to labor in the NASCAR pits at their highest level.
To be certain, this is no mere publicity stunt:  Abbott rightly earned the spot. She can toss around tires half her size, and she can bolt them on to the racer at breakneck speed which is particularly impressive for a rookie.  NASCAR officials at first thought that she was trying to become part of the Waltrip pit crew as part of a blatant attempt to draw media attention, but once they saw what she was capable of, they knew she could not only handle it, but become a valuable member of the pit crew
Much like Danica Patrick, she grabs attention for her appearance, an incredibly buff physique that she didn't get from lounging around — Abbott was a CrossFit devotee for a while before she owned a CrossFit facility, CrossFit Invoke, in Raleigh, North Carolina.  Abbott got caught in the CrossFit craze from a soldier in Iraq and she's never looked back, and now she has a six-pack that would make any fitness model extremely jealous.
Abbott is an absolute strength dynamo, someone capable of squatting up to 255 pounds and has clean and jerked 170 pounds, while weighing only 115 pounds. That level of strength is quite necessary in the pit, but with an exercise regimen like hers it doesn't seem like a lack of strength will be an issue.
When Christmas Abbott was 22, she followed her mother to Iraq and like her, became a general contractor.  She ended up spending four years there and credits the experience with toughening her up to withstand future physical challenges.  In fact, she commemorated the experience by having a tattoo of a pistol on her hip.  The pistol is but one of several tattoos that Abbott has on her divinely-sculpted body.
She was recently featured on HBO Real Sports.
What's most conflicting about this tough-as-nails pit crew member is that her looks are extremely 'girl next door' as she is absolutely stunning and considers herself to be quite feminine – well, most of the time.
It will be quite intriguing to watch how Christmas Abbott appeals to the loyal, old school NASCAR crowd, a crowd that values its star drivers.  NASCAR executives like Bullard don't have any concerns.  In fact, he believes Christmas Abbott will expand the NASCAR fan base.
"Christmas Abbott is going to transcend NASCAR," Bullard told Yahoo Sports of her appeal.
As for Christmas Abbott's view of the impending publicity and appeal, "I have to get dirty and (travel) overnight," Abbott told Yahoo Sports of her new job. "NASCAR fans are die-hard and they will call out your B.S. I want to go to the highest level, and I left three jobs to do (this) one."
Of her newfound fame, she says: "There's a lot of spotlight. I prefer to be the quiet underdog."
Powered by

Sidelines
Follow paulmbanks
Related Posts via Categories