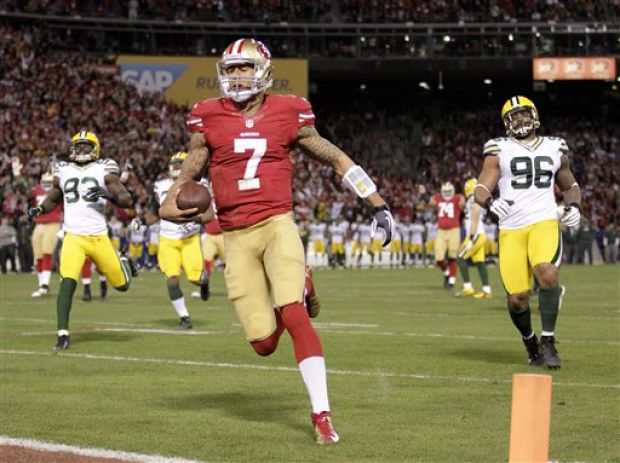 The Green Bay Packers and their fans know how last season ended. If you're talking about the Packers, it's hard to go ten minutes without someone bringing up the read-option clinic hosted by 49er QB Colin Kaepernick in last season's Divisional Round playoff game – and for good reason.
After eight months of embarrassment, schematic reflection, and personnel retooling, the vast majority of prognosticators again have the Packers on the losing end of the 49ers matchup (including our own esteemed Nick Grays).
If the Packers are going to atone for their poor playoff showing, these are the matchups they MUST win.

1. Dom Capers vs. Colin Kaepernick
After his defense was thoroughly gutted in the playoffs, Dom Capers sought out help from the top read-option minds in college football. Capers and Wisconsin defensive coordinator Dave Aranda developed a specific package  for the Packer defense to stop quarterbacks like Colin Kaepernick and week two opponent Robert Griffin III. Although the Packers played the Seahawks and their own read-option quarterback Russell Wilson, by all accounts they've yet to unveil their master plan to avoid another 49er debacle. What Capers has prepared will likely determine the outcome of the game, and ultimately say a lot about his own long-term job security.
2. David Bakhtiari vs. The Smiths
When Bryan Bulaga went down, Packer fans everywhere shuddered with flashbacks of Marshall Newhouse hopelessly pawing at defenders as they blew past him towards Aaron Rodgers' blind side. Fortunately, fourth round rookie David Bakhtiari outperformed Newhouse in training camp and has locked down his spot as the opening day left tackle. Outplaying Marshall Newhouse in training camp is one thing, consistently blocking QB terror Aldon Smith and the underrated Justin Smith is something else entirely. If Bakhtiari can give Rodgers time to throw, regardless of how poorly the defense plays the Packers will have a shot. On the other hand, if Bakhtiari has rookie growing pains at an inopportune time there is potential for season-ending consequences.
3. Clay Matthews vs. The Refs
Earlier this week Clay Matthews revealed the Packers' big plans to stop Colin Kaepernick: hit the quarterback. Excuse me while I recover from the shock that a pass rusher admits he's going to try and hit a QB. This prompted an eyeroll-worthy response from 49er coach Jim Harbaugh, equating Matthews' words with the Saints' bounty scandal where players were paid to "take out" opposing stars. As absurd an overreaction as it is, this type of gamesmanship from Harbaugh puts the referees squarely under the microscope. Expect every borderline call to err on the side of the quarterback. When Matthews is at his best, he plays with a certain level of reckless abandon. If the refs take that edge away, it will diminish his effectiveness greatly.
4. Micah Hyde/Nickle Defenders vs. Vernon Davis
For whatever reason, the Packers have struggled against top-tier TEs. Vernon Davis – taken one spot after AJ Hawk in the 2006 draft – is exactly the type of athletic TE to expose the Packers' defense. Without Michael Crabtree (ruptured Achilles) on the outside, the Packers have to feel good about their chances to contain an aging Anquan Boldin and unheralded Kyle Williams. Davis is precisely the mismatch that the 49ers will look to exploit on passing downs, and without the playmaking Casey Hayward (hamstring) manning the slot, it falls on rookie Micah Hyde to contain him. Although there were a bevy of positive moments in the preseason, Hyde still had his rookie moments. Look for Davis to test him early and often.
5. Mason Crosby vs. Mason Crosby
After narrowly beating out Giorgio "Sergio" Tavecchio and watching Zach Ramirez' epic implosion, Mason Crosby is again the Packers' kicker. Given his own slump last season, it's impossible to know just how damaged Crosby's psyche is. While a strong pre-season and training camp seemingly has him on the right track, there isn't a Packer fan alive who wants to see a close game come down to a Crosby kick. If Crosby ends up missing a game winning kick, it could be the death blow to a once promising NFL career.
Do you agree that these are the key match-ups to Sunday's game? Let me know by commenting below.
Ian Culver is the newest writer to The Sports Bank community and brings a vast knowledge of Wisconsin Sports and marketing. In fact, Culver spends a ton of his free time putting together scouting reports on any athlete to join one of the state's professional teams. You can follow him on twitter @mushroomcloudmf.
Powered by

Sidelines
Follow paulmbanks
Related Posts via Categories